Rebels boys drop two in weekend play
Posted on May 3, 2017 by Taber Times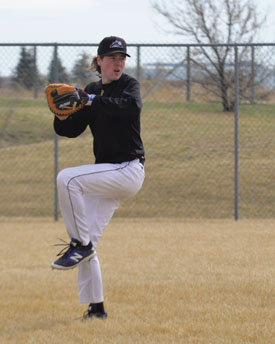 TIMES FILE PHOTO
By Trevor Busch
Taber Times
tbusch@tabertimes.com
Competitive starts for the W.R. Myers High School Rebels boys baseball team were not enough to stave off late collapses in doubleheader action over the weekend in Brooks.
"We came out with two losses, and definitely shouldn't have come out with two losses at that point," said coach Dan Pulfer.
On Saturday, the Rebels dropped the first game of a doubleheader against home team Brooks 18-8.
"We went back and forth with Brooks. They're a really good team this year, I wouldn't be surprised if they went really far against Vauxhall," continued Pulfer. "It was a real neck-and-neck ball game, 6-5, right up until the 5th. And then we just kind of fell apart in the 5th inning."
In the second game versus Crescent Heights, the final score may have been tighter, but the team's collapse in late innings was pronounced.
"We just fell apart against Crescent Heights unfortunately. It was just a really awkward game. We were up by about 12 runs at one point, and just needed our final three outs to get the mercy in there, and somehow the boys just found a way to collapse," said Pulfer. "We gave up nine runs in the 5th inning, and that just killed us, then follow that up with another five-run 6th. We were up 19-6 heading into the 4th inning, and then ended up losing 24-20, obviously you can kind of feel what the atmosphere would have been like at that point."
The Rebels have fallen to a 2-3 record on the season, and Pulfer noted the team needs to work on their mental readiness moving forward.
"It's mostly just mental at this point. We've just gotta get that resiliency and know how to put the nail in the coffin. We were just so close, and then they just kind of found a way to collapse and weren't able to get that back. Our pitching has been really strong, and our hitting has come a long way. I've seen a lot of improvement in our hitting. We just haven't been able to get all the wheels clicking at once."
The Rebels traveled to Milk River for a game yesterday (results unavailable at press time), and will play this weekend. Their next home game is on May 9 versus Medicine Hat High.
Pulfer did warn playoff scheduling in late May could potentially conflict with W.R. Myers High School graduation ceremonies, but this hasn't been officially determined.
A game scheduled for Wednesday last week versus South Central was cancelled due to poor weather.