Rugby Rebels put away pesky Chinook
Posted on April 19, 2017 by Taber Times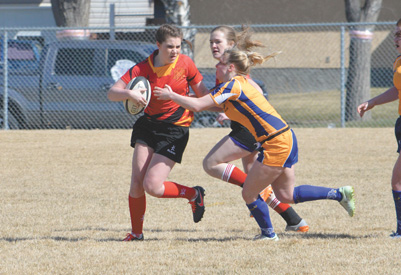 TIMES FILE PHOTO
By Greg Price
Taber Times
gprice@tabertimes.com
It took them awhile to get going, but once they were firing on all cylinders, the W.R. Myers Rebels varsity girls rugby team earned a 31-5 last Wednesday on the road.
"The score is really deceiving because Chinook put up a really, really hard fight and came hard at us right from the opening whistle. We were on our heels where they actually scored first," said Chris Komery, head coach of the W.R. Myers Rebels varsity girls rugby team. "They scored in the first five minutes of the game. It was a combination of they took it to us and we weren't expecting it. The first quarter we were trying to find our hands and our legs, but after that the girls really tightened things up."
A chat at half-time had the Rebels coaching staff stressing to the girls that nothing was going to be handed to them despite dominance last year for the most part by the Rebels that led to a championship.
"We discussed it at our practice after the game too, that we have targets on our back that no matter how easy some of our games were last year, it doesn't mean they are going to be easy this year. We can't afford to come out flat," said Komery, adding the Rebels answered their early adversity by having five different players score tries against Chinook. "It was a very solid team effort for about 75 per cent of the game."
W.R. Myers Rebels varsity girls rugby team has Easter week off before returning to play on Wednesday, April 26 with a home contest against powerhouse LCI which Komery is hoping to draw a strong crowd to, at Myers field.
"We will be expecting a tougher match than we got last week for sure. We will have a very short practice week to get prepared for LCI," said Komery. "The girls need to start strong and finish strong. We didn't play LCI last year because of the tiering system, but they traditionally have had a strong squad. It could be catastrophic if we start out slow. "