Rebels split games on diamond
Posted on April 19, 2017 by Taber Times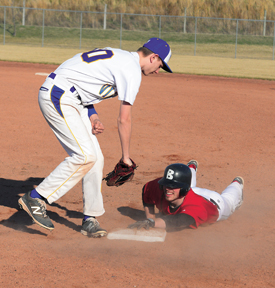 TIMES FILE PHOTO
By Greg Price
Taber Times
gprice@tabertimes.com
It was the tale of two games for the W.R. Myers Rebels baseball team in a split of Southern Alberta High School Baseball League competition.
The team had a two-game homestand, splitting its games in the process.
The first was a 13-2 loss against the Vauxhall Vikings at Ken McDonald Memorial Sports Park last Tuesday.
Up against a league powerhouse laden with Grade 12 veterans, the Rebels extended innings and the Vikings made them pay.
"They scored four runs in the fifth inning which put the nail in the coffin for us. Joel (Dalton) was pitching well that day, but baseball is a tough game when you have to make six outs in an inning versus three," said Dan Pulfer, head coach of the W.R. Myers Rebels baseball team. "They weren't really hitting the ball hard, they were slapping it out there, but they were getting on base and making the plays taking advantage of errors. Our bats were dead too where their guy was pitching well."
The team was able to bounce back with a 6-3 win over Eagle on Thursday, thanks to an ace pitching performance by Darian Simmons.
"He pitched six complete innings and got 11 strikeouts. He was just dicing," said Pulfer of his hurler. "I felt bad because I took him out for an inning. He was saying to me, 'Coach, I want to go the complete game', but ethically, just couldn't do it with his pitch count getting up there. When he's chucking 11 Ks up there on his 18th birthday, you can't ask for a better story than that. They just got little hits, they weren't touching us at all."
Joel Dalton paced the Rebels offence, going 2-for-3 with four RBI.
The team has Easter week off before returning to action on April 26th against South Central (Oyen) at 5 p.m. at Ken McDonald Memorial Sports Park.
The team then travels to Brooks on April 29 for games against Brooks and Crescent Heights. The team also hits the road on May 2 against Erle Rivers (Milk River).
"It was nice for us to bounce back, especially after getting spanked by Vauxhall like that. To come back from that and have our bats come alive and our pitchers doing well. It was a complete turn around. At this stage, that's all you can ask for, is are you going to show that resiliency," said Pulfer. "Are you going to bounce back instead of keeping digging yourself a hole. We are sitting at a 2-1 record and I'm kind of liking our schedule coming up where I think we are still going to toss some more Ws on it."