Rebels flawless in its Thaw Tournament
Posted on April 12, 2017 by Taber Times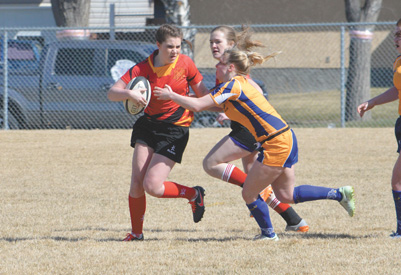 TIMES FILE PHOTO
By Greg Price
Taber Times
gprice@tabertimes.com
The opposition felt the heat in the Spring Thaw Tournament over the weekend, as the W.R. Myers Rebels varsity girls rugby team went a perfect 3-0 to kick off its season at Myers Field.
"We had a very successful weekend. It was a good experience for us with two of the three games being played against teams we won't see again this year," said Chris Komery, head coach of the W.R. Myers Rebels varsity girls rugby team.
The Rebels worked out the kinks from a long winter's slumber in tight match wins against Bev Facey and Sacred Heart, before firing on all cylinders with a dominant 34-10 victory over Winston Churchill.
"The first two wins were narrow and that was a combination of getting the bugs out, but everything came together nicely in the third game. The girls played their tails off," said Komery. "The first couple of games, the coaching staff was able to pinpoint some things while emphasizing the things we did really well. That third game, literally everything came together. We had a pep talk before the game and we wanted them to take a more direct running route rather than lateral movement. For whatever reason, it sunk in and we really took it to them and the score showed that. Everyone had their assignment that game and everybody executed their assignment near flawlessly."
The Rebels compete in their first league game tonight on the road against Chinook, where Komery is thankful his squad is already battle tested from the Spring Thaw Tournament.
"I know where the girls need to be, where they need to play and now I know how they need to play. We are a very fast team where we need to be fast," said Komery. "It's such an advantage when we can get three really good games under our belt before the season. It gives us a chance to firm up everything. We know exactly where every girls is slotted in."
The Rebels home opener has been bumped down a day to April 26 against LCI at Myers Field, where varsity plays at 5:30 p.m. with junior varsity to follow at 6:45 p.m.
"If we can get a good crowd coming to our home opener against LCI, that would be great. I'm considering that to be one of the tougher games we are going to have this year, so it'd be really good if we could get a lot of local support. We had a great turnout over the weekend, so let's keep it going," said Komery.