Chill freezes out opposition
Posted on April 12, 2017 by Taber Times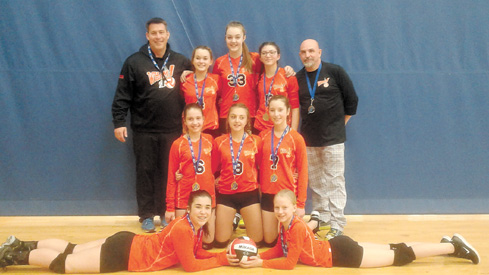 GREAT JOB: U14 Wham!Chill team takes silver at tournament. TIMES PHOTO SUBMITTED
By Greg Price
Taber Times
gprice@tabertimes.com
The U14 WHAM! Chill girls club volleyball team used its youthful exuberance in Edmonton this past weekend to take the silver medal at a tournament.
With players from Taber, Barnwell and Vauxhall, the huge tournament featured five divisions with the Chill competing in Division II against players older than themselves.
"It's a U14 age group, but all my girls were U13 age, so we played up an age group and we did well for moving up an age group," said Derry Kolody, co-coach of the WHAM! Chill U14 girls club volleyball team."
Chill left round-robin pool play on Saturday with a second-place seeding after four matches. The crossover had the Chill defeat two teams in three sets that dropped down from Division I before losing to a powerhouse in the championship final in two straight sets.
"All the teams we had to play on Sunday were definitely quality teams," said Kolody. "For the final it was sort of like David versus Goliath but with Goliath winning. My little guys wouldn't give up and kept digging, but we were outsized and eventually fell."
Gaining the silver medal, it was the team's pluckiness that was noticed by other teams at the tournament which led the U14 WHAM! Chill to perform above initial expectations.
"Teams kept commenting on our tough serving and our passing and defence. We made teams earn their points," said Kolody.