Rugby heating up with Thaw tourney
Posted on April 5, 2017 by Taber Times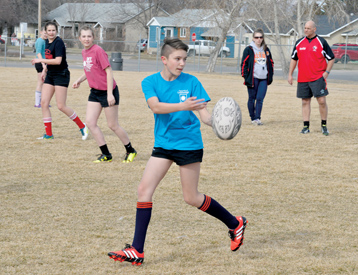 PIGSKIN DAYS: W.R. Myers varsity girls rugby team are readying themselves for a weekend tournament. TIMES PHOTO BY GREG PRICE
By Greg Price
Taber Times
gprice@tabertimes.com
The W.R. Myers Rebels varsity girls rugby team is embarking on a new endeavour as it will host its First Annual Spring Thaw Tournament at Myers field this weekend, and already teams from around the province are buzzing having tried to gain entry.
"We are awfully excited about this tournament. This is the first one we tried and since we sent out the invites, we've had demand from other schools from Red Deer and Calgary and Edmonton who wanted to come. We had to draw the line somewhere where we had to turn them down," said Chris Komery, head coach of the W.R. Myers Rebels varsity girls rugby team. "We will be keeping them in mind next year. We are hoping to expand this tournament next year, and if we can get seven or eight teams from outside the zone that we never see unless we make it to zones or provincials, that's great."
The varsity Rebels girls rugby team is coming off the heels of a Tier III provincial title, where for now coach Komery is not putting any alleviated expectations on the table for the upcoming season.
"We are looking fairly strong. We would be kind of half foolish if we thought we were going to be as good as last year, just because we lost a lot of experience (to graduation)," said Komery. "But, with all things, at the end of the day, I'm very happy with this team. We are coming along pretty nicely. The biggest challenge leading up to our first regular season game, and a tournament is a good way to sort this out, is finding out where everyone fits."
Mother Nature in March was not a friend of the rugby team in being able to get outside and train properly on the field.
"The poor weather to start the season did not bode well for us. Getting stuck in the gym, we are very limited in what we are able to do with that many bodies in a gym. We needed to get outside as soon as possible and we are still kind of playing catch up," said Komery.
There are 21 players on the roster for the varsity girls rugby team with three of them being floaters between the senior and junior varsity teams.
"The challenge is finding exactly where those players fit. Out of those 21, we probably have a handful that are returning players from last year. Those are easy slot ins, it's the new players to the senior side that we have to find a spot for and we are almost there. The tournament will be a great gauge for us where certain girls are going to fit in."
Komery earmarks the team's strategy comparative to its skill level in the areas it is strong ii, with the man at the helm noting the team will have to switch gears in it's identity compared to last year.
"Last year we were really strong in the forwards, we had a really experienced pack. This year, the pack, I'm not saying it's going to be challenging, but we will have to find where girls fit," said Komery. "What I'm coaching to the young ladies is we are going to have to be very fast. When the ball moves into the loose play like the ruck or maul, we really have to get that ball back as fast as we can. From what I'm seeing early, we don't have the strength to potentially tie it up in the forwards like we did last year."
W.R. Myers Rebels varsity girls rugby team will be kicking off the Spring Thaw Tournament on Friday at 2 p.m. with a match against Bev Facey. Matches continue on the hour at 3 p.m., 4 p.m. and 5 p.m. on Friday.
Play continues on Saturday with W.R. Myers battling Sacred Heart at 10 a.m.
Play will continue every hour until ending with a 5 p.m. match with Myers taking on Winston Churchill.
W.R. Myers, Bev Facey, F.P. Walshe, Ross Sheppard, Sacred Heart, Winston Churchill, Holy Trinity and Bishop Grandin are competing in the Spring Thaw Tournament.
There are a little over 40 players signed up between the two W.R. Myers Rebels girls rugby teams.
The first regular-season match of the season goes April 12 at Chinook in Lethbridge with varsity at 5:30 p.m. and junior varsity at 6:45 p.m. W.R. Myers home opener is April 25 against LCI, with varsity at 5:30 p.m. and junior varsity to follow at 6:45 p.m.