Forward progress being made for fight card
Posted on April 5, 2017 by Taber Times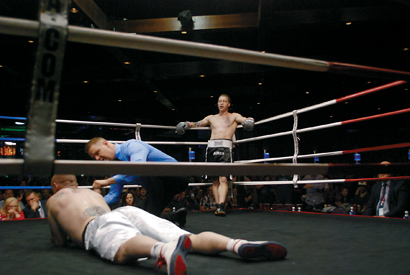 TIMES FILE PHOTO
By Greg Price
Taber Times
gprice@tabertimes.com
Despite rumours swirling around in the community by some to the contrary, it looks like Taberite Joel Mills will in fact be boxing in front of his home town.
While there has been some maneuvering around as far a commission goes in sanctioning the fight card, it looks like it will be July 15 when Mills laces up his gloves as part of an eight-fight card at the Taber Arena.
"We are going to do a fight. It will be four amateur fights and four professional with the way it's looking," said Mills during a discussion period at the March 30 Taber Recreation Board meeting. "We will be showcasing local talent."
For Mills, the goal of the boxing card is two-fold where it has been a long awaited dream for him to box in front of his home crowd for all the support they have shown in both his amateur and pro careers.
"I've always wanted to do this personally. Back in 2009 when I broke my hand training (for Hostile Homecoming, Taber's last boxing card), it was a heart breaker. And when I decided to make my comeback, this is what was important to me, to do this in Taber," said Mills. "My second goal is to give some local kids some exposure and pass the torch. Hopefully we can do promotions every year, not necessarily professional. I want to bring boxing back to Taber and gives these kids a platform to show their stuff and fulfill my dream of boxing at home. This has been a dream for 20 years that I have waited for this and I want to make it happen."
The local boxing commission that existed back in 2009 for Hostile Homecoming has now disbanded and there are a couple of options in the pursuit of a new one. The Calgary commission can come down to help sanction the fight, but that move would prove to be quite cost prohibitive according to Mills. The other option is to form a local mini committee of a president, co-president and board member in which if the committee is put in place, the Lethbridge commission is willing to donate their time for the event.
"It will serve to teach us for upcoming events," said Mills. "If we get the board in place of three people, then we will use the Lethbridge commission. If we don't have this board in place, the Lethbridge commission says it's out f their jurisdiction, so they can't come, we'd have to get Calgary."
Mills noted only professional fight cards need a commission while amateur cards do not if more fight cards are to be organized in the future for Taber.
"If this is going to be a one time and done thing (professional fights) then forming this committee and having the Lethbridge commission come out is well worth it. If there is going to be more (pro) fights in the future, then you got to from a commission and take the time to find the people. I was in LA when the local commission was formed (for Hostile Homecoming) and I heard it was a lot of work," said Mills. "The three-person committee is a way around that for this event."
Aline Holmen, director of recreation for the Town of Taber suggested the committee be appointed by council so that as a volunteer, they can be covered by the town's insurance.
"This goes way beyond business for me. It is some personal that I have to do to feel complete. I couldn't do it the first time (Hostile Homecoming) and it has been a chip on my shoulder ever since, I have to make this happen," said Mills. "I also have this dream that if this goes well, we could maybe do a big one out at (Ken McDonald Memorial Sports Park) under the lights. I'm not looking past this event because I don't know what lies ahead for me. But there is that potential to make Taber a fight town."