Wright signs with Pronghorns
Posted on March 29, 2017 by Taber Times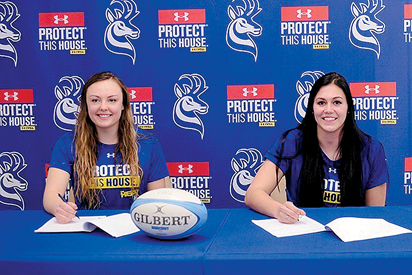 DOTTED LINE: Both W.R. Myers' Genna Wright and LCI's Jordan Calladine will be attending the U of L to play rugby. TIMES PHOTO COURTESY OF THE UNIVERSITY OF LETHBRIDGE
With the completion of the women's rugby sevens season coming earlier this month, the Lethbridge Pronghorn women's rugby team is excited to announce the signing of a pair of southern Alberta products for the 2017-18 rugby season, which includes one Taberite.
The first signings for next season see the Pronghorns welcome Jordan Calladine from Lethbridge Collegiate Institute (LCI) and Genna Wright of W.R. Myers High School in Taber.
Both Calladine and Wright will play their fourth season this spring with their respective schools and have been identified on the Canada U18 long list, playing for the Wolfpack. Also, both played on the southern regional all-stars last summer.
"For us there is no doubt about both of them being capable of playing at the university level as they were identified by the Canada selectors at the U18 age category," said head coach Ric Suggitt. "These are just some of the attributes that we are searching for in adding to the group that was assembled last autumn. When we begin scouting we make certain to reach out to teachers and friends from the school system."
Coach Suggitt is excited to bring into the program, Wright, a 5'9″ centre who also brings the attributes he is looking for in building a successful program which starts with good character. Greg Thompson, vice principal from W.R. Myers has witnessed Genna both on and off the field of play. His praise of Wright has the U of L excited about her untapped potential while attending the university.
"Genna has been an excellent student and citizen during her time here," said Thompson in a University of Lethbride press release. "She has excelled at many sports including volleyball, basketball, rugby, swimming, and hockey. She is a determined athlete with a solid work ethic. Outside of athletics Genna is a positive influence in our hallways and contributes to our culture through her interactions with all students and teachers. This young lady does not know the word quit. When problems and adversity get in the way of Genna's goals, she will dig deeper to be successful."
There will be plenty of familiar faces on the Pronghorns when Calladine and Wright join the program next fall with four Clipper grads, and Myers' grad Keegan Brantner joining the Pronghorns last fall.
"As a program we would like to thank and acknowledge the parents and the schools that have developed two outstanding young women," concluded Suggitt.