Gross taking to international waters
Posted on March 29, 2017 by Taber Times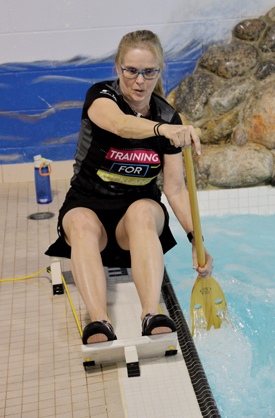 POOL PARTY: Avid dragon boater Connie Gross practises her stroke at the Taber Aquafun Centre early Friday afternoon. The Taberite will be representing Canada at the World Master Games in New Zealand. TIMES PHOTO BY GREG PRICE
By Greg Price
Taber Times
gprice@tabertimes.com
Taberite Connie Gross is making some World Master Games (WMG) history, as she will be part of a Canadian contingent that will compete in dragon boating, the first ever time the sport has been featured at the Games.
"This trip is a dream come true for me. It's a once in a lifetime chance to paddle at an international event. I'm loving the journey – I've trained alongside some wonderful people – and met many new friends. The end goal has motivated me to get fit and take on a healthier lifestyle," said Gross of the WMG that will take place in Auckland, New Zealand, from April 17-30.
Gross has followed her passion for dragon boating for 10 years, initially under the guidance of trail blazer Sharie Cousins from Lethbridge College, who passed away from breast cancer last year.
"She was an absolutely amazing coach and mentor. She got a lot of us out at the college motivated to go out and dragon boat," said Gross. "I've fallen in love with dragon boating. It's a great team sport and I got to know a lot of my colleagues. It's a sport where you're not out on your own. One of our coaches sent us an e-mail and it was the sound of a windmill. When you listen to the really good teams paddling, it sounds like a windmill with the paddles hitting the water. It's all in unison, with one chop in the water at a time, it sounds really neat when it works."
While Gross admits her Coulee Classic Dragons women's 50-plus team is not quite there yet, expectations for the World Masters Games will be simply challenging themselves. The WMG is regarded as the largest multi-sporting event in the world. Over 26,000 participants from 100 countries including Canada, UK, US, Finland, Germany, and Russia will compete in 28 sports and 45 disciplines during the 10-day event in Auckland.
"Being it will be the first time ever dragon boating will be in the Games, we thought it would be a great time to get a team together. It took about six to eight months to get enough people together. It's a big commitment. You have to train regularly and save your money and save your holidays from work," said Gross. "We are calling ourselves a competitive recreational team. It means we are here for the fun, but we want to push ourselves to do our best. I don't care what everyone else is doing, I just care that I'm trying."
Gross will be part of a team in a large boat with 20 paddlers, a drummer and a steersperson. There are three coaches that paddle themselves and a manager. Most of the competitors are from Lethbridge, with a couple from Calgary and Gross being the lone Taberite. There will also be a mixed team of 40-plus called the Canucks Cruizers that will be in a smaller boat of 10 paddlers, a drummer, and steersperson.
Both teams have been training through the winter months at the University of Lethbridge and Nicholas Sheran pools.
"We are coming off our winter and the southern hemisphere is coming off their summer, so we are competing against teams that have been on the water all their summer while we train at a pool," said Gross. "In the end, we will just be challenging ourselves and hope to make some more friendships along the way."
Apart for the teams' World Masters Games experience, Gross hopes to use the experience to promote dragon boating in southern Alberta where other people will give it a try as well.
It is a watersport which has its roots in an ancient folk ritual of contending villagers, which has been held for over 2000 years throughout southern China. While competition has taken place annually for more than 20 centuries as part of religious ceremonies and folk customs, dragon boat racing has emerged in modern times as an international sport, beginning in Hong Kong in 1976.
Dragon boat racing (sport and festival) is among the fastest growing of team water sports, with scores of thousands of participants in various organizations and clubs in over 60 countries – 62 of which are IDBF members. The sport is recognized for the camaraderie, strength and endurance fostered amongst participants, and it has also become a very popular corporate and charitable sport, with a lot of dragon boating around Alberta serving as a rotary club fundraiser and bringing awareness to breast cancer.
The dragon boat festival in Lethbridge in June grew in size nearly four times over in 10 years since its inception in 2002.
"It is really fun and anyone can do it. You just have to spend a little bit of time to learn the right technique. You don't have to be strong or super talented or super athletic," said Gross. "You just have to want to work in a team atmosphere and get out and have some fun and exercise."
For more information on local dragon boating you can contact the Dragon boat Association of Southern Alberta (DASA) Facebook Page.