Golf course now in the swing of things
Posted on March 29, 2017 by Taber Times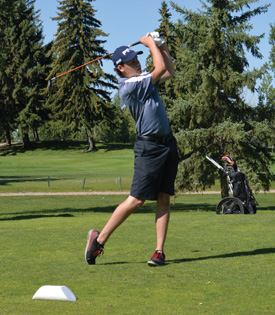 TIMES FILE PHOTO
By Greg Price
Taber Times
gprice@tabertimes.com
The topsy-turvy nature of Mother Nature in March pushed back the opening of Taber Golf Club for its 2017 links season, but better late than never as the club saw plenty of traffic this past weekend.
"We had nine holes open on Friday with the full 18 available on Sunday," said Erik Gerlock, assistant golf professional at the Taber Golf Club. "The course weathered pretty well this winter. The greens looked pretty good under the tarps. There is a little bit of a later start than we've had the last two years. But it made for a little easier transition instead of trying to rush to get the course prepared for the golfers."
The early to mid-portion of March had Mother Nature indecisive of what it wanted to be. Shorts-like weather in the upper teens was quickly replaced by snow that disappeared as quickly as it appeared, thanks to chinooks.
"We'd get the snow and then with the wind it'd be gone in a day or two," said Gerlock.
Despite the challenges, Gerlock noted the first weekend saw its share of traffic as staff eases its way into the 2017 season.
"Even in the days before (the opening), you get the phone calls asking when we are opening up. You got your seniors who golf every morning who are now back in their regular routine," said Gerlock.
"Not too sure about Saturday, but Sunday we did pretty good and even with the nine holes open on the Friday we had a pretty good turnout."
Log onto http://www.tabergolf.ca for the updated information on upcoming events at the Taber Golf Club.