4-on-4 puts exclamation point on hockey season
Posted on March 29, 2017 by Taber Times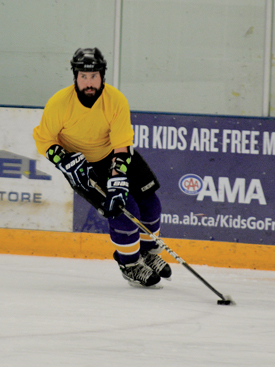 FOUR ON THE FLOOR: Taylor Gouw circles along the side boards at the Taber Arena looking to pass to a teammate at the Taber 4-0n-4 Hockey Tournament on Friday night. TIMES PHOTO BY GREG PRICE
By Greg Price
Taber Times
gprice@tabertimes.com
As with the changing of the seasons, so too does the finish of the Taber 4-on-4 Hockey Tournament this past weekend signal the official finish of hockey season.
Sixteen teams battled for bragging rights for the tournament which ended up having the Street Savages take the title with players from the Enchant, Lomond, Foremost and Taber area. It featured a classic 'A' final, going to a seven-round shoot out in the end to determine the champion, as goalies from both teams were on the University of Lethbridge Pronghorns men's roster.
"That was definitely one of the best finals I've ever seen," said Kyle Sargeant, organizer of the Taber 4-on-4 Hockey Tournament. "The tournament fills up pretty quick usually. This year 13 teams were returning teams from last year. Things went pretty smooth."
Averaging about 10 players a team, that brings a lot of travelers from near and far to the Taber community featuring all different types of skill level from your rec player on up.
"There was some really good hockey players out there. There are guys still playing pro hockey in Europe or semipro hockey over in Asia. There were also a lot of university players and WHL players whose season was over," said Sargeant. "There were some midget "AAA" players out there as well."
Competition is divided into four pools of four teams that play round robin. Teams are then re-seeded into the 'A' to 'D' divisions on Sunday depending on your overall record from pool play so teams of similar calibre are squaring off against each other later in the tournament.
"You got all these high-calibre players down to your local boys. It's a lot of fun," said Sargeant. "You will be playing teams in your calibre come Sunday. And if you win the 'D' final, you get your money back (from entry fees)."
As a side event, there has been a championship belt made with the name of every single shoot-out champion put on it. This year's winner was Jaden Turcato.
"I love it because you never know what to expect, and this year it was another underdog," said Sargeant. "You have one person from every team who represents their team for the shoot out. So that's 16 shooters and you do an elimination until one person wins it all and gets a $150 gift card at the Oilmen's Club and they get their name put on the belt."
Sargeant took over organizing the event six years ago where this year it was a family affair where his dad Terry and brother Jordan helped out with time keeping.
"Without my dad down there, I don't think we could have a tourney down there. Time keepers are tough to come by," said Sargeant.