Sharpshooter takes down Celtics
Posted on March 15, 2017 by Taber Times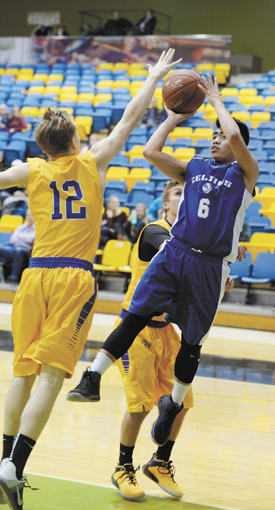 JUMP STREET: Jobert Cruz of the St. Mary's Celtics boys basketball team attempts a fadeaway jumper against Immanuel Christian Eagles during the second round of 2A south zone competition at Lethbridge College last Tuesday. TIMES PHOTO BY GREG PRICE
By Greg Price
Taber Times
gprice@tabertimes.com
St. Mary's Celtics boys basketball team put up a valiant fight against the higher-ranked Immanuel Christian Eagles, but eventually faded in a 79-60 loss in the team's second-round 2A south zone game at Lethbridge College last Tuesday.
With the Celtics leading 15-12 after the first quarter, Eagles sharp shooter Ryan Degner went off in the third quarter in which the Celtics could not recover from.
"They had a kid come out and hit six threes in a row without missing. He had 18 points in the third quarter and only finished the game with 23," said Ken Gabruck, head coach of the St. Mary's Celtics boys basketball team. "He just got on a hot streak shooting it from downtown. And probably a bit of a coaching mistake where we stayed in the zone a little too long. I didn't have the confidence to match up with them man-to-man. Once we switched to the man-to-man, he didn't score after that. We kept up with them, they only outscored us by five that third quarter. We still played well offensively."
Cobe Cobarubias had 16 points in the loss and Jobert Cruz added 15 points. Carl Rodrigo chipped in 11 points.
Earlier, the Celtics dispatched County Central Hawks 79-33 last Monday at Lethbridge College.
Cobarubias scored 15 points and Joey Geisbrecht had 14. Kyle Braun and Donovan Passey both had 10 points apiece.
"The growth level of our team was good from the start to the end of the season, the consistency wasn't. We were unable to do that game after game which was a concern. We'd take one or two steps forward and then take a step back the next game," said Gabruck. "You can attribute that a bit to a lack of experience because we didn't have any Grade 12s. And we are a short team so we are always fighting a battle being mismatched under the hoop."
That being said, it will be a more battle-tested team for the 2017/2018 basketball season from the Celtics with veterans lining the line up with some solid players coming up through the pipeline.
"The kids are all looking forward to next year where we'll have seven Grade 12s. That experience they gained this year should be a benefit to them. That being said, there's parts of their individual game they have to improve on to get that consistency and compete against the better teams," said Gabruck.
"Individual man-to-man defence needs to be worked on. And also understand your role on the team, if they are going to be a post inside player, or on the perimetre and makes choices to improve in those particular areas. The players that are going to be better defensively and are better rebounders are going to get to play a lot more."