Rebels win banner in dramatic fashion with last-second play
Posted on March 15, 2017 by Taber Times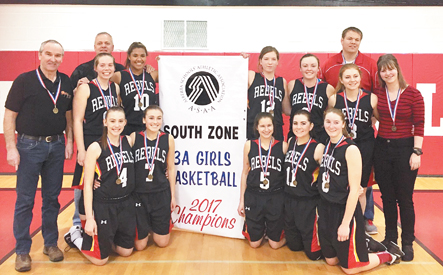 ZONED IN: It was another banner moment for the W.R. Myers Rebels varsity girls basketball team, who once again took the 3A south zone banner this past weekend in Medicine Hat. The team now goes into 3A provincials as the number-one seed. TIMES PHOTO SUBMITTED BY KENNEY WOOD
By Greg Price
Taber Times
gprice@tabertimes.com
W.R. Myers Rebels varsity girls basketball team rallied from a nine-point third quarter deficit to upend the McCoy Colts 73-71 to three-peat as 3A south zone champions on Saturday.
"What a battle this game was. We had to continually fight our way back," said Kenney Wood, head coach of the W.R. Myers Rebels varsity girls basketball team as the Rebels had to gallop away from the Colts on its home court with the banner.
That fight included a sluggish offensive first quarter, but made up for with gritty defence in the second quarter to have the game tied at 30.
"We got the Colts into some foul trouble, we were doing a great job of attacking the hoop. But unfortunately we were not converting our foul shots. In the end we shot 40 foul shots and only made 17," said Wood.
"That was almost our demise. We are such a better foul shooting team than that. I'm not sure what happened, but I can guarantee that it won't happen again."
Battling back from the third-quarter deficit, the score was tied with 18 seconds left when the Rebels attempted a play Kenney whipped up for just such an occasion to seal the banner win.
"We had worked on a new play earlier in the week that was put in place for a last-second shot. Little did we know that we'd be using it so soon after learning it. We didn't have any time outs left, so the girls had to set it up on the fly. The play worked out and we were able to get what turned out to be the game-winning basket," said Wood.
"McCoy did have five seconds left to try and score, but with some great pressure defence, we didn't allow them to get a shot off before the game buzzer went off. It was a hard fought game, but we were able to keep our composure and just kept working hard right to the end."
Millay Johnson poured in 22 point for the Rebels who got 20 points from Natalie Hoyt.
Kitawna Sparks had 13 points to go with 12 rebounds to get the double-double.
The Rebels got to the championship game by easily dispatching Eagle Butte 85-46.
"Game plan accomplished. We ran a lot and played some very good defensive basketball. Everyone was able to score in this game and it was a great way to start off the zone tournament," said Wood.
Lauren Steed had 13 points with Austen Robbins chipping in 12. Johnson had 11 points and Jenna Nelson added 10 to round out the double-digit scorers.
"We are ready for the provincial tournament. We are going in as the number-one seed. The girls are excited to get back to provincials and are more than ready to defend their title," said Wood.
The Rebels first game is on Friday at 10 a.m. in Medicine Hat at the Leisure Center.