Rebels drop double-OT thriller
Posted on March 8, 2017 by Taber Times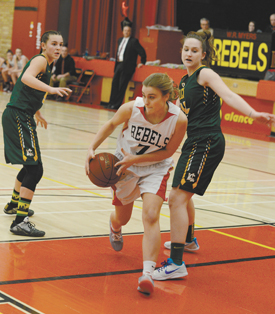 ROCK STARS: Langley Moser of the W.R. Myers Rebels varsity girls basketball team drives in the lane and looks to dish it to the perimeter against LCI Clippers at Myers gymnasium on Friday night. TIMES PHOTO BY GREG PRICE
By Greg Price
Taber Times
gprice@tabertimes.com
If one is to set the intensity level for zones and beyond, the W.R. Myers Rebels varsity girls basketball team certainly did that on Friday night.
Seniors night emotions were filled in a packed gym, as the Rebels took on 4A powerhouse Lethbridge Collegiate Institute Clippers, taking them to the brink before losing 84-80 in double overtime.
"Well, if you weren't at Myers Friday night you missed one of the most exciting games that has happened there in a long time. The crowd definitely got their monies worth and even got an extra 10 minutes on the house," said Kenney Wood, head coach of the W.R. Myers Rebels varsity girls basketball team.
The Rebels frustrated the Clippers in the first quarter with their intense defence and excellent ball rotation for some easy baskets, in what looked like, at first, could turn out to be a blowout for the home team.
"We came out fast and were able to build a lead, but games are not won in the first quarter. We knew LCI wouldn't go down without a battle. We were able to hold on to the lead at the half but were in a bit of foul trouble," said Kenney.
The Rebels had an eight-point lead at half-time and the third quarter before the offence ran dry and the Clippers were able to tie up the game at 71 after regulation.
"We struggled scoring and with a foul called on us at the final buzzer, LCI had a chance to win the game. The crowd wasn't very happy with the call and it was quite an atmosphere for the two shots. The first one missed badly, so we thought we might get the win, but the Clippers made the second shot and sent the game into overtime," said Kenney.
There the Rebels tried to hold the line against the Clippers, but with three players eventually fouling out in the overtime frames, it proved too much to overcome.
Millay Johnson came away with the triple-double for the Rebels, scoring 22 points, hauling in 10 rebounds and dishing out 10 assists.
Natalie Hoyt was the Rebels leading scorer with 23 points. Austen Robbins had 12 points and Kitawna Sparks had the double-double of 11 points and 10 rebounds.
"The end result wasn't what we had hoped for, but we accomplished pushing one of best 4A teams in the province to the brink. We came away without injury and are prepared for zones and hopefully provincials. Our two goals are within our sight," said Kenney. "Two more wins Friday and Saturday gets us the zone championship and then three more wins the next weekend gets us the provincial championship. What an exciting way for the seniors to wrap up the Rebel gym in a game that will never be forgotten."