Midget Suns play role of comeback kids
Posted on March 1, 2017 by Taber Times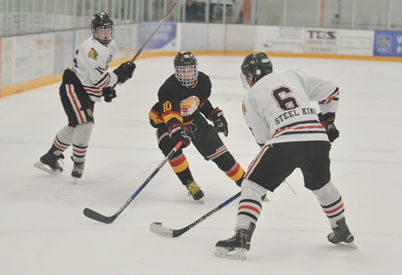 PRESSURE: J.D. Hall of the Taber bantam Golden Suns confronts a Red Deer defender in the opposing end during weekend play at the Taber Arena on Saturday evening. TIMES PHOTO BY TREVOR BUSCH
By Greg Price
Taber Times
gprice@tabertimes.com
Taber midget "AA" Golden Suns (12-14-7) split its pair of SCAHL games over the weekend.
The first was a 7-4 victory over Okotoks Oilers Black (17-13-4) at the Taber Arena on Friday night.
"We were down 3-1 and the boys had to dig deep to play the game the right way," said Geoff Oster, head coach of the Taber midget "AA" Golden Suns.
"When you get a bit of a string of success, things can get easy and complacent in the game. We got a little loose in the way we were playing the game. But we started to get the puck down low where our forwards are some of the strongest players down low in the entire league. We were able to use that to our advantage, and then got the puck up high to our defenceman who showed the ability to get pucks to the net where good things happen."
Chase Gedny and Brant Mack each tallied twice for the Golden Suns and Brady Garner, Kole Fujita and Reed Odland had singles.
Zach Trempner had two assists and Logan Kiss, Hayden Mack, Kyle Hulit and Tanner Turcato had single helpers.
Broc Merkl earned the win in net for the Suns, facing 35 shots on goal.
Taber midget "AA" Golden Suns proceeded to drop a 5-4 decision to Central Alberta Selects (11-20-3) on the road on Sunday, surrendering the losing goal with only 1:03 left in the game, after rallying from a three-goal deficit.
"This team has a lot of character and from the beginning of the year they have made it their mission never to be out of a game," said Oster.
"They did a great job showing character and coming back that game. Especially after coming off a four- hour bus ride with bus legs."
Brant Mack, Kiss, Linden Gouw and Dallas Bodnar (AP) scored for the Golden Suns.
Trempner got two assists with Gedny and Turcato getting single assists.
Merkl took the loss in net, facing 37 shots on goal.
"Coming off a long bus ride like that, you know you are going to have bus legs, so you have to have a strong second and third period. Broc Merkl had a hell of a game, after the first period, Broc Merkl was the difference. He made big saves at important times to give us the opportunity to mount that comeback. Once we got our legs back, it was off to the races. In the end it was a great shot by a great player at the end of the game that beat us."
Taber midget "AA" Golden Suns are very busy at the end of its SCAHL regular season, traveling on Friday and Saturday to play the Cranbrook Dynamiters and Lethbridge Hurricanes respectively.
Although deemed a home game, the midget Golden Suns will be in Warner on Sunday at 3:35 p.m. to play the Cranbrook Dynamiters.
To end the season there will be a round-robin tournament with the top three teams playing the bottom three teams in the south division. A crossover then happens with two pools.
"You can definitely have one of the three top teams getting beaten out," said Oster. "We will need one win against Lethbridge (This weekend) to solidify third place in the division."
BANTAM: Taber bantam "AA" Golden Suns (22-9-2) remain tied atop the south division standings in South Central Alberta Hockey League play with the Okotoks Oilers (19-6-8), after dropping the Red Deer Steel Kings (10-16-6) 6-4 at the Taber Arena on Saturday evening.
"We are down to our last games (in the regular season) and we are trying to keep our team in that competitive place so we are not searching for something heading into playoffs," said Cam Cleland, head coach of the Taber bantam "AA" Golden Suns. "If you give yourself a good drive right until the end, then that means you are not searching for something. You already found it, you are comfortable with it, and it's a matter of putting it to work."
Jayden Kotiuk, J.D. Hall, Tristan Miller, D.J. Tonin, Gerrat Harty and Nolan Price tallied for the Suns. Colby Garner had two assists and Carson Cleland, Tyran Kiss, Cody Stange, Price and Miller drew single assists.
Marek Andres faced 22 shots on goal for the Golden Suns to take the win in net.
Taber bantam "AA" Golden Suns finish off its regular SCAHL season on Saturday with a home game against Cranbrook Hornets (16-12-3) at the Taber Arena at 5:30 p.m.
"It will come down to the wire to capture the fire spot in the division, but where we are standing, we have a chance at first overall in the league (north and south division)," said Cleland. "If we get nicked by a half point or lose it on a head-to-head, you just let it rest there and get ready for the playoffs. And when you take our individual team statistics for goals for and goals allowed, and total penalty minutes, we got some pretty good numbers going. We are the top-scoring team in the league by quite a bit, the next closest is 20-some goals away. These are all accomplishments we can feel good about."
But those feelings will end when the regular-season ends as the bantam Golden Suns get into playoff mode for the tournament in Okotoks.
"Once the puck drops in the playoff tournament all the things we have done to this point are under the bridge and you now have that last commitment you have to win it all," said Cleland. "It's going to be a really tough tournament where any three or four teams can win it from what I've seen. And then there's always that wildcard element with a tournament format, where a club may not have had huge success throughout the season, but they are in a good place that weekend and knock someone out."
PEEWEE: Taber peewee "AA" Golden Suns (13-13-6) earned a single point in the South Central Alberta Hockey League standings.
The team dropped a 7-1 decision to Olds Grizzlys (27-2-2) on the road on Saturday.
Rylen Roersma scored the lone Suns tally with an assist from Caylee Crowson. Scout Sidam faced 51 shots on goal to take the loss in net for the Suns.
The team bounced back to skate to a 5-5 draw with Foothills Bisons (9-18-4) at the Taber Arena on Sunday afternoon, going on a furious comeback with four straight goals in the third period.
Ty Fraser tallied twice and Roersma, Nathan Verloop and Ryan Holm had singles. Jed Magarrell and Verloop each had two assists. Rylan Millo, Fraser and Hunter Van Vaerenbergh each had single helpers. Landon Porteous faced 28 shots on goal to earn the tie for the Golden Suns.
Taber peewee "AA" Golden Suns end its 2016-2017 SCAHL regular season on the road on Friday against Lethbridge Hurricanes White at 5:45 p.m. at Henderson Ice Centre.