Midget Oil Kings take it down to the wire
Posted on March 1, 2017 by Taber Times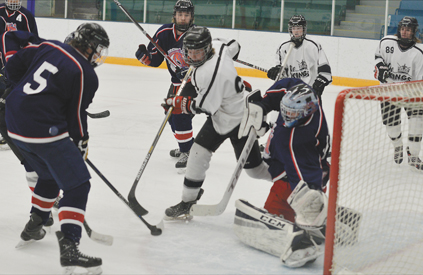 TIMES FILE PHOTO
The third and deciding playoff game for the Taber midget 'A' Oil Kings comes down to this weekend in Fort Macleod after the two teams split this past weekend.
On Saturday, the Oil Kings dropped an 8-1 decision to Fort Macleod.
Dallas Bodnar scored the lone Oil Kings tally with Ryan McDonald and Matthew Kerkhoff getting assists.
The team bounced back with a 5-4 win on Sunday.
Kerkhoff and Clay Leismeister tallied twice with Bodnar notching a single.
Bodnar also drew three assists with Kerkhoff and Dylan Jones getting two assists each. Leismeister had a single helper.
INITIATION: Taber initiation 3 Oil Kings played its last games of the regular season, starting off with a 15-6 win over Lethbridge on Saturday at the Taber small ice.
Emmett Ruggles, Nate Kramer, Ethan Volk, Kellon Schalk and Dane Degraw all had hat tricks.
Sunday's tilt was a 13-10 win over Lethbridge Panthers on the road on Sunday.
Schalk had four goals and Volk and Degraw had hat tricks. Kramer tallied twice and Ruggles had a single.