Golden girls at 55-plus provincials
Posted on March 1, 2017 by Taber Times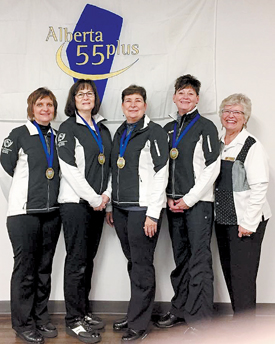 ROCK STARS: Skip Nanette Dupont (far left) and lead Val Leahy (second from right), helped their rink earn gold at curling provincials in Grande Prairie. TIMES PHOTO SUBMITTED BY KEVIN LEAHY
By Greg Price
Taber Times
gprice@tabertimes.com
Two Taberites helped lead their rink to the gold medal at the Alberta Games 55-plus Women Curling Provincials in Grande Prairie during the Family Day weekend.
Representing Zone 1 was skip Nanette Dupont and lead Val Leahy along with second Karen Morrison from Brooks and Shirley McPherson from Lethbridge. The team defeated the Zone 3 Donna McLeod rink from Calgary.
The Dupont rink managed a 4-1 record at 55-plus provincials, bouncing back from an opening-match loss to run the rest of the table.
The most drama came from the semifinal where the Dupont rink stole one in an extra end to propel themselves to the championship final.
"The semifinal was a nail-biter. We had to go an extra end and steal it. The other team had the final rock, but my final rock, between my sweepers and my throw, we were able to get it absolutely buried behind the wall," said Dupont. "She had an extremely tough shot to try and win it with last rock. Val set up our ends right from the get go the whole tournament."
In the final, the Dupont rink was up two coming home without the hammer. It was a clean end where the Zone 1 foursome kept Zone 3 to one point to take it.
"The competition was fairly stiff there. We had people like Diane Foster (Zone 3) who is a world senior champion. There were some very decent teams there," said Dupont. "The ice was tricky in a couple of spots. My team had practised where we could throw the bigger weights. That really helped compared to the other teams where their draw game was their game. We were a combination of both where if we got into trouble we could do a big hit, clear things out and do double take outs and things like that."
Dupont has been quite busy at the curling rink, not only having the gold-medal winning rink she plays on, but also a younger team that competes in playdowns for the Travelers Curling Club Championships. That team just qualified this past weekend to go to southerns as a build up to try and go to nationals.
The gold medal was one of four medals Zone 1 was able to win at Alberta Games 55-plus Curling Provincials, where the zone also medaled in 55-plus mixed (gold), 65-plus women (gold) and 65-plus men (silver). The gold medal qualifies Dupont and Leahy for the 2018 Canada 55-plus Games.