Skaters medal at Medicine Hat competition
Posted on February 22, 2017 by Taber Times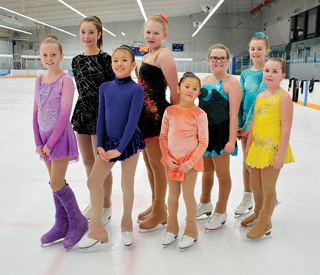 CLUB KIDS: Members of the Taber Figure Skating Club did quite well at a regional competition in Medicine Hat. TIMES PHOTO SUBMITTED
Taber Figure Skating Club competed at the Medicine Hat South Region Competition earlier this month.
The following are the results:
STAR 1: Brooklyn Stanley (Silver). Ariane Wurz (Silver).
STAR 2: Katarina Martens (Bronze).
STAR 3: Harley Giesbretch (Bronze). Paige Hofer (Bronze). Vanessa Rae (Silver). Kassidy Virostek (Silver). Jolene Wurz (Gold).
STAR 8 FREE SKATE: Taylor Straga (Fifth Place).