Rebels top 3A provincial rankings
Posted on February 22, 2017 by Taber Times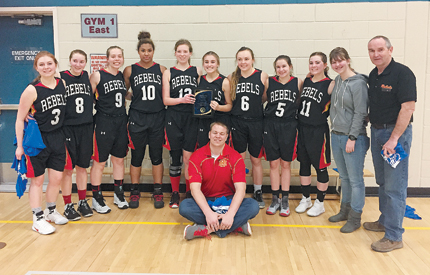 TITLE TOWN: W.R. Myers Rebels varsity girls basketball team keep churning out the tournament titles, this time in Red Deer at Hunting Hills. TIMES PHOTO SUBMITTED
By Greg Price
Taber Times
gprice@tabertimes.com
W.R. Myers Rebels varsity girls basketball team continues to be a 3A powerhouse, as the squad took another tournament title this past weekend in Red Deer at Hunting Hills.
Rebels earned the title by dispatching the hosts 65-49. The title run also included a 68-30 pasting of Charles Spencer on Friday night and a 69-38 victory over Arch Bishop MacDonald to make it to the final.
"Both MacDonald and Hunting Hills have some tall players and the scores do not accurately represent how the games went. In both games it was a battle as our opponents had some strong runs that brought them within single digits," said Brandon Bullock, assistant coach for the W.R. Myers Rebels varsity girls basketball team. "As a team we were able to come together, gather our composure and push the lead. When we needed players to step up they did and as a result we were able to take the tournament."
Earlier in the week, the Rebels dispatched Catholic Central Cougars 79-49 in Southern Alberta High School Girls Basketball League play last Wednesday.
"We came out quite strong in the first quarter, going on a 24-5 run. Defensively, we were very sharp and were able to get some steals which converted into lay ups. We were also able to cause them to make a number of bad passes. The first quarter really set the tone for the rest of the game," said Kenney Wood, head coach of the W.R. Myers Rebels varsity girls basketball team. "Catholic Central is a very fundamentally sound team, they play very solid defence and make you work extremely hard to get shots off. We did have a few three-pointer buzzer beaters, which gets the offensive team cheering, but it can become very disheartening for the defenders."
One of those Rebels raining threes was Natalie Hoyt who scored 21 of her 29 points, going 7-for-8 from beyond the arc. Kitawna Sparks recorded the double-double, scoring 20 points and hauling in 12 rebounds. Millay Johnson had 15 points to go with seven steals.
"Brandon, Marty and myself are very pleased with the progress the team has made so far. The girls are getting things figured out and seem to come to every game a little more focused on the task," said Wood. "We talked about our team goals of repeating as zone and provincial champions, and I think the team can see that if we continue to improve, we have all the tools to accomplish this."
REBEL YELL: The latest 3A girls basketball provincial rankings are out from the Alberta Schools Athletic Association and W.R. Myers sits atop those rankings. The rest of the top 10 in descending order are Monsignor McCoy High, Medicine Hat (South); Wetaskiwin Composite, Wetaskiwin (Central); Beaumont Composite, Beaumont (Edmonton Metro); Edmonton Christian, Edmonton (Edmonton Metro); Magrath School, Magrath (South); Strathcona Christian Academy, Sherwood Park (Edmonton Metro); Parkland Composite, Edson (North Central); Sturgeon Composite, Sturgeon County (Edmonton Metro); Blessed Oscar Romero, Edmonton (Edmonton Metro).