Novice Oil Kings tickle the twine plenty
Posted on February 15, 2017 by Taber Times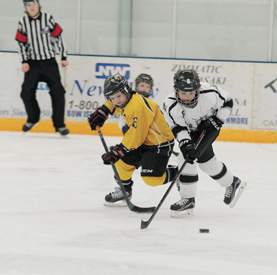 EYE ON THE PRIZE: Konnor Wiebe of the Taber novice Oil Kings battles for the puck against Duchess in CMHA play at the Taber Arena on Saturday morning. TIMES PHOTO BY GREG PRICE
By Greg Price
Taber Times
gprice@tabertimes.com
Taber novice Oil Kings split a pair of high-scoring games in CMHA play on the weekend.
The Oil Kings skated to a 13-11 win over Duchess Storm at the Taber Arena on Saturday morning.
Chase Stronge netted nine goals in the win with Ayden Umbach getting two goals. Lincoln Weiss, and Cruz Duell notched singles.
The team proceeded to drop a 15-12 decision to Coaldale on the road on Sunday.
Stronge scored six more goals and Duell and Konnor Wiebe both had two goals apiece. Umbach and Roman Capner had singles.
MIDGET: Taber midget Oil Kings doubled up Redcliff 4-2 on Saturday at the Taber Arena in the team's last regular-season home game of the year.
Matthew Kerkhoff, Dylan Jones and Dallas Bodnar scored goals for the Oil Kings with goalie Trey Ross notching an empty netter to put the game away.
Clay Leismeister drew two assists with Logan Wiebe and Gavin Hoskins getting single helpers.
ATOM: Taber atom Oil Kings defeated Raymond 12-4 in Spud League hockey competition on Saturday afternoon.
Kayden Kress led the way with five goals and an assist for the victors. Damian Beswick had a hat trick. Tage Jensen, Jaxson Coutts and Tristen Egeland each had one goal and two assists. Blake Rabusic had three helpers and Tanner Fletcher had two assists. Tyson Church drew a single assist.
INITIATION: Taber initiation 3 Oil Kings earned a 19-6 win over Taber initiation 2 Oil Kings on the small ice on Saturday.
Nate Kramer, Emmett Ruggles, Dane Degraw, Kellon Schalk, Ethan Volk and Griffin Olfert all had hat tricks. Ryder Nielsen had a single.
Replying for initiation 2 Oil Kings were Lincoln Wiebe with a hat trick and Jenner Workman, Dallin Langhofer and Charley Fletcher with singles.