Haney nets two hat tricks to power Suns
Posted on February 15, 2017 by Taber Times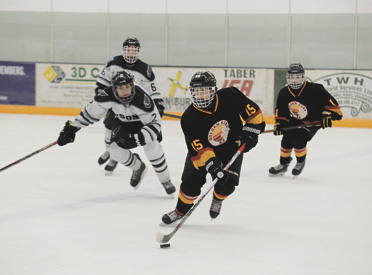 MAKING HIS MOVE: Gabe Neufeld of the Taber bantam "AA" Golden Suns plays the puck-possession game against Foothills Bisons at the Taber Arena on Friday night in SCAHL play. TIMES PHOTO BY GREG PRICE
By Greg Price
Taber Times
gprice@tabertimes.com
Taber bantam "AA" Golden Suns (19-8-2) took care of business this past weekend in South Central Alberta Hockey League play, winning both of it contests, as the squad is breathing down the neck of the Okotoks Oilers (17-5-7) for first place in the South Division.
The first was a 9-4 victory over Foothills Bisons (2-28-0) at the Taber Arena on Friday night.
"We knew we were going to have a spread in the competition this weekend, but we didn't underestimate Foothills even though they only have a couple of wins," said Cam Cleland, head coach of the bantam "AA" Golden Suns.
Kalem Haney had the hat trick and Gabe Neufeld, Wyatt Broderson, Tyran Kiss, D.J. Tonin, J.D. Hall and Tristan Miller all had singles. Miller also drew three assists and Gerrat Harty drew two helpers. Tonin, Hall, Neufeld, Colby Garner, Kolby James, and Nolan Price all drew assists.
Marek Andres faced 21 shots on goal to earn the win in net for the Golden Suns.
The team continued its homestand with a 7-5 victory over Olds Grizzlys (17-9-2) at the Taber Arena on Saturday evening.
"That was definitely a better Olds hockey team than the one we played when we played them in their rink. They were physical, they were consistent, they were very aggressive. That was the pinnacle game for our weekend," said Cleland. "Our goal is to be as solid as we can heading into the back six so we can have a solid place in the playoffs. We want to keep on a trail of momentum that makes us a better hockey team."
Haney potted another hat trick for the Golden Suns who got singles from Miller, Jayden Kostiuk, Price and Hall. Miller drew three assists with Braeden Sheppard and Price getting two helpers each. Carson Cleland, Haney, James, Kiss and Harty drew single assists.
Taber bantam "AA" Golden Suns have a busy weekend coming up with a road game against Lethbridge Hurricanes on Friday at the start of a home-and-home doubleheader. The team then hosts the Hurricanes on Saturday at 3 p.m. at the Taber Arena.
"Lethbridge has turned their hockey team right around since Christmas time. They have got themselves right in the pack of the upper-three clubs in our division and they are in on our heels," said Cleland. "Those back-to-back series are a big test for both teams, they will be high-energy games which is good for late February."
The Golden Suns finish up by hitting the road early on Sunday morning to play Wheatland Warriors.
"This is an unfortunate time of the year to have a triple header. If we can get through all that with no injuries and no suspensions and have a relatively good showing, it will harden us a little bit," said Cleland. "In two to three weeks after that, you'll have to play three games of hockey in three days or possibly four. We will look at this challenge as an opportunity."
MIDGET: Taber midget "AA" Golden Suns (11-11-7) skated to a 3-3 draw with Red Deer (7-18-6) on the road on Sunday.
Brant Mack got a goal and an assist, with Zach Trempner and Linden Gouw also scoring for the Suns. Kole Fujita and Chase Gedny drew assists.
Theo Paskuski faced 27 shots on goal to earn the tie in net.
Taber midget "AA" Golden Suns host Okotoks Oilers Green on Saturday at the Taber Arena at 8 p.m. The team then hits the road on Sunday against NWCAA Stamps on Sunday.
PEEWEE: Taber peewee "AA" Golden Suns (12-11-5) had every result you could imagine in a busy weekend of South Central Alberta play, finishing with a 1-1-1 record over three games.
The loss was a 5-3 decision to Wheatland Braves (8-17-3) on Friday night on the road.
Rylen Roersma had two tallies for the Golden Suns who got a single from Ryan Holm. Kade Degenstein and Zachery Hauck drew assists. Landon Porteous faced 30 shots on goal to take the loss in net.
The Suns continued on to skate to a 2-2 draw with Lethbridge Hurricanes White (12-11-5) at the Taber Arena on Saturday afternoon.
Ty Fraser scored both Suns goals, getting two assists from Nathan Verloop and a single helper from John VandenElzen. Porteous faced 25 shots on net to earn the tie.
Taber peewee "AA" Golden Suns finished off its weekend strong with a 6-2 victory over Cranbrook Wings (3-24-1) at the Taber Arena on Sunday afternoon at the Taber Arena, thanks to four power-play goals.
Verloop, Fraser, Degenstein, VandenElzen, Rylan Millo and Hunter Van Vaerenbergh scored for the Suns. Verloop and VandenElzen also drew three assists each. Caden Heins drew tow helpers and Degenstein, Griffin McCulloch and Fraser all had single assists.
Taber peewee "AA" Golden Suns host Bow Valley Timberwolves on Saturday at 12:30 p.m. at the Taber Arena. The team then hits the road on Sunday against the Cranbrook Wings.