Rebels roll to Classic title
Posted on February 9, 2017 by Taber Times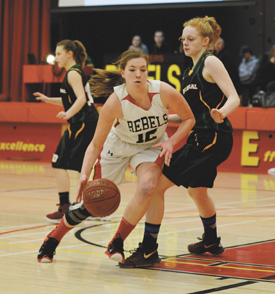 HOLDING COURT: Lauren Steed (12) of the W.R. Myers Rebels varsity girls basketball team dribbles around a West Central High defender during opening-round play at the Rebel Classic on Friday evening. TIMES PHOTO BY TREVOR BUSCH
By Greg Price
Taber Times
gprice@tabertimes.com
It was pure dominance for the W.R. Myers Rebels varsity girls basketball team in securing its home Rebel Classic tournament title on the weekend.
Beating every opponent by 44 points or more, the tournament did help the Rebels with different variables in how to handle the games.
"We know the importance of being disciplined and running our offensive sets and taking advantage for what the defence is giving us," said Kenney Wood, head coach of the W.R. Myers Rebels varsity girls basketball team.
"We are extremely happy with how the girls are playing. With a tournament like this, we were able to get a lot of playing time for everybody."
Everyone scored in the Rebels' first game of its Rebel Classic in a 63-16 pasting of West Central High.
Kitawana Sparks had 13 points and Austen Robbins chipped in 10. Jenna Nelson hauled in 10 rebounds and Langley Moser scored nine points to go with seven rebounds.
"I think that was West Central's first experience with that dynamic with the huge crowd, it was probably overwhelming," said Wood.
The team earned a trip to the championship final with an 80-35 victory over Crescent Heights.
Lauren Steed had 15 points to go with nine rebounds. Sparks netted 14 points and Genna Wright also had double-digit scoring with 10. Moser grabbed 10 rebounds.
"We definitely had a goal in our first two games to keep them under a certain score. It's little inside challenges that helped the girls stay focused," said Wood.
"We wanted to limit turnovers and run offensive sets. To do that, and do it well."
The Rebel Classic final saw W.R. Myers beat Stirling 81-37.
"Some of the girls were able to step up and show themselves more than anything. If I put some extra effort in, I can hit those shots. Whether it's an open shot against a number-one ranked team or an unranked team, the shot is the same as a 12-foot jump shot," said Wood.
"You make that, and then in a tough game you know you can make that shot."
Millay Johnson poured in 24 points for the Rebels in the championship game. Hoyt had 19 points and Sparks had 14 points to go with nine rebounds. Jenna Nelson chipped in 10 points.
Earlier in league play, the Rebels were able to upend Magrath Pandas 67-51 in Southern Alberta High School Basketball League play last Wednesday at home.
Johnson had 19 points to go with 10 rebounds. Hoyt had 16 points and eight steals. Steed had 10 points and nine rebounds. Moser hauled in nine rebounds as well.
"We were able to play extremely well. Defensively we were able to contain them. The girls are doing the game plan and they understand what we are trying to accomplish," said Wood.
"Magrath is 3A and the first two teams we played in the tournament were 3A. We defended our homecourt."
The Rebels are now coming down the homestretch a sit prepares for high school's version of March Madness, having played 22 games in a 38-game series with the hopes of a provincial berth.
"At this point, we are not learning new stuff. We are just fine tuning stuff we already know," said Wood, adding fans are asking how the team compared to last year's provincial-winning squad. "Where we are compared to last year, is we are doing a little better in the wins. But we are a different team than we were last year, so we have had to adjust some things offensively and the girls have bought in that were on the team last year. There are some things we want to capitalize on that we have this year that we didn't have last year. We are doing what I hoped we'd be doing at this point in the year. We will see what the second half of the season holds."
W.R. Myers Rebels varsity girls basketball team travels to Winston Churchill tonight to take on the Griffins. The squad then travels to Catholic Central on Feb. 15 to battle Cougars. After that, teams are split into upper and lower tiers in league play.