Polar Plunge raises cold hard cash
Posted on February 9, 2017 by Taber Times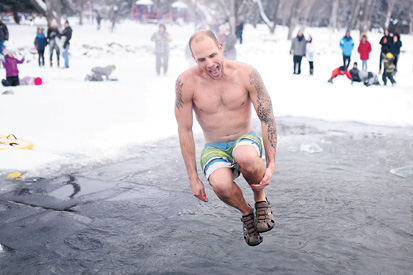 DEEP COLD: Clayton Smith cannon balls into Henderson Lake during a recent Polar Plunge event for Special Olympics Alberta. SOUTHERN ALBERTA NEWSPAPERS FILE PHOTO BY TIJANA MARTIN
By Tijana Martin
Southern Alberta Newspapers – Lethbridge
More than 100 brave souls took the plunge on Saturday afternoon for the sixth annual Polar Plunge Freezin' for a Reason event.
The Lethbridge Police Service, Taber Police Service and Blood Tribe Police Service, RCMP, Alberta Sheriffs, Lethbridge Corrections and the Alberta Law Enforcement Torch Run (LETR) hosted the event to help raise funds for the Special Olympics Alberta's 3,000 athletes.
For the first time, the event was hosted at Henderson Lake. In the past, it's been at Nicholas Sheran Lake.
"We thought we'd change it up. It's a little more visible here, closer parking and it just seemed like a better venue," said Cst. Braylon Hyggen with the LPS and chair for the southwestern portion of the LETR.
There are four Polar Plunge events taking place across the province.
So far, events have taken place in Edmonton, Lethbridge and Calgary with Medicine Hat to follow.
"They have polar plunges all over, they have them in California but running into an ocean without the ice, I don't think you have the same effect that you have here in Alberta with the snow," said Hyggen.
"It is cold, it takes your breath away but you hear the people cheering and even if they weren't plunging, we had great support this year."
The Lethbridge Fire Department was also in attendance to ensure everyone was safe.
"They cut the hole in the ice for us. Without them, we wouldn't be able to do this," Hyggen added.
This year was a record for the number registered and amount raised.
Registration was a minimum of $75 and 120 participants registered for the event either as a team or as individuals.
As of Saturday afternoon, over $21,000 had been raised.
"Which is awesome – last year we did just about $18,000 and our goal was $20,000," said Sr. Cst. Mathieu Champagne with the Taber Police Service and co-chair for the event.
"To put that in perspective, Edmonton raised $60,000 so we're 10 per cent of the population and we did one-third of what they did."
Champagne noted that every year the event improves.
"The numbers keep going up, the people are turning out, they're seeing it's a worthwhile event, they're seeing how much fun it is. This year we had some family activities, we had fire pits and a barbeque — all of which in the (previous) years we didn't have, so every year, we're coming up with new ideas to get more people out, so hopefully, next year we'll get 150 and maybe $25,000 raised."
Donations for the Polar Plunge are still being accepted at http://www.alberta.polarplunge.ca.