Competitive gymnastics growing in Taber
Posted on February 9, 2017 by Taber Times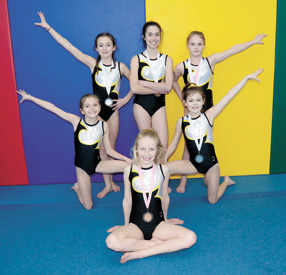 CLUB KIDS: Nine kids from the Taber Gymnastics Club competed in the Battle at the Border in Lethbridge. Pictured are Blaze Hansen, Chloe Johnson, Madison Rempel, Makayla Schwartz, Tatum Higa and Tayla Hansen. Missing from the picture are Kate Csabay, Camryn Coney and Rowyn Coney. TIMES PHOTO BY GREG PRICE
By Greg Price
Taber Times
gprice@tabertimes.com
The Taber area is making its mark in competitive gymnastics once again as nine athletes made their way to the Battle at the Border in Lethbridge late last month, the first competition of the year.
As members from the Taber Gymnastics Club have been increasing their number of competitive athletes, so too has the number of high finishes increased.
"These are the most gymnasts we've had compete in one competition since we opened the new club," said April Klassen, head competitive coach for the Taber Gymnastics Club of the nine gymnasts that competed.
"Competitive gymnastics is really taking off."
Madison Rempel finished first in vault, second in bars, second in floor and was second all-around in Lethbridge.
Rowyn Coney took first place in floor.
Blaze Hansen and Camryn Coney both finished in second in vault in their respective categories. Tatum Higa was third in vault. Other athletes who competed, earning non-podium finishes were Chloe Johnson, Kate Csabay, Makayla Schwartz, and Tayla Hansen.
"The kids are getting out there to compete. The first year we had three kids competing, then four and nine this past (Jan. 28) weekend. And we have 16 kids in competitive gymnastics," said Klassen.
"A rec gymnast would train an hour-and-a-half, the competitive athletes do about six to nine hours a week (Level I and up)."
The recreation gymnasts for the Taber Gymnastics/Fitness Cub is around 200 in the fall/winter and between 100/120 in the spring session.