Bantam Suns limp back to home ice
Posted on February 9, 2017 by Taber Times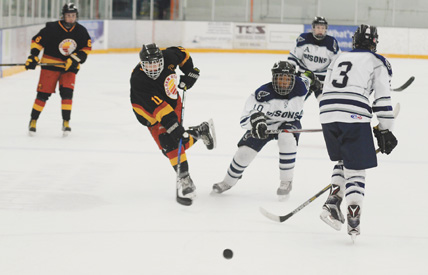 TIMES FILE PHOTO
By Greg Price
Taber Times
gprice@tabertimes.com
Taber bantam "AA" Golden Suns (17-8-2) stalled in their pursuit of top spot in the south division with a tough weekend in South Central Alberta Hockey competition this past weekend on the road, earning a single point.
It showed how much parity there is in the league, with the Suns playing top teams tough in the south and north division the weekend before to take a split.
"More so with bantam and midget, there is that physical barrier that can make a big difference and equalize teams with more talent," said Cam Cleland, head coach of the Taber bantam "AA" Golden Suns. "If you look our league stats across the board in both the south and north, in the second half of the season, on any given game, teams are pulling out wins regardless of their standing. We have some good games, we have some average games and then you have games where you play a little off and then you find yourself on the outside, looking in."
Saturday's tilt was a 7-7 draw with Red Deer Steel Kings (9-14-4), battling back from a 5-1 deficit after the first period on the road.
"We don't like to see a five-goal first period. Marek Andres was netminding that night and he had a bad start, it happens. We had a little bit of bus legs to start, but nothing major," said Cleland. "We got ahold of the game a little more through the second and moving into the third, we kept to it and kept with it. It's not like the team we were playing had a system that was going to close us out, so we kept playing the game."
Kolby James and Kalem Haney both potted hat tricks and Tristan Miller had a single. James and Miller also drew two assists apiece. D.J. Tonin, Nolan Price, Gabe Neufeld, Colby Garner and Haney drew single helpers, as the Suns had some bad luck too in what could have been a win had some bounces gone their way.
"In reality, we probably should have won the game. We had a couple of disallowed goals and then we had some suspect calls. We dealt with every type of adversity you can think of in the third period," said Cleland. "But in the end, we battled back and stole a point."
Marek Andres faced 39 shots on goal to earn the tie.
The team then were shutout by Bow Valley Timberwolves (8-14-4), with a 3-0 blanking on Sunday, as the team was short staffed due to suspensions.
"We went into the game with 13 skaters and it was still doable. We played OK," said Cleland. "Our puck management was probably a little bit better than theirs, but their goaltender was their best player that day. But we didn't just lay down and go away and we did our best with 13 skaters."
Blake Vaselenak faced 24 shots on net to take the loss in goal.
Taber bantam "AA" Golden Suns host Foothills Bisons on Friday night at 8:30 p.m. at the Taber Arena. Saturday's slate has the Suns hosting also, with a 5:30 p.m. game against Olds Grizzlys at the Taber Arena.
"The back half of our season, we have been on the road a pile since the calendar flipped Jan. 1. It will be nice to have a weekend where we can just stay home and enjoy a couple of home games," said Cleland.
MIDGET: Taber midget "AA" Golden Suns split its pair of SCAHL games.
The first was a 7-4 victory over Foothills Bisons at the Taber Arena on Friday night.
Brant Mack had the hat trick and Chase Gedny tallied twice. Zach Trempner had a single, as the Suns pelted its opposition with 56 shots on net. Linden Gouw and Kole Fujita drew two assists apiece. Cole Jensen, Reed Odland and Trempner drew single helpers.
Theo Paskuski faced 35 shots on net to earn the win in goal for the Suns.
Saturday's slate featured a 4-3 edging by Bow Valley Timberwolves at the Taber Arena.
Gedny tallied twice and Justin Astalos notched a single. Astalos, Trempner, Kyle Huit, Gouw and Ace Wenbourne drew assists.
Broc Merkl helped keep the Suns in the game, facing 53 shots on goal to take the hard-luck loss for the Suns.
Taber midget "AA" Golden Suns are on the road on Friday against Cranbrook Dynamiters and hit the road again on Sunday against Red Deer.
PEEWEE: Taber peewee "AA" Golden Suns (11-10-4) split its pair of South Central Alberta Hockey games over the weekend.
The first game was a 7-1 loss at the hands of Medicine Hat Hounds (19-4-4) on Friday night on the road.
Hunter Van Vaerenbergh scored the lone Suns tally from Rylen Roersma and Rylan Millo.
Scout Sidam faced 48 shots on goal to take the loss in net.
The team bounced by with a 6-3 doubling of Cranbrook Wings (3-21-1) at home on Sunday.
Roersma had the hat trick and Millo, Nathan Verloop and Zachery Hauck had singles.
Verloop also had three helpers and Roersma had two. Kade Degenstein, Caylee Crowson, Jed Magarrell and John VandenElzen drew single assists.
Landon Porteous faced 17 shots on net to earn the win in goal.
Taber peewee "AA" Golden Suns hit the road on Friday to battle the Wheatland Braves before returning home on Saturday to play Lethbridge Hurricanes White at the Taber Arena at 3 p.m. The team also hosts Cranbrook Wings on Sunday at 1 p.m. at the Taber Arena.