'Bam Bam' Mills dominates in boxing ring
Posted on February 9, 2017 by Taber Times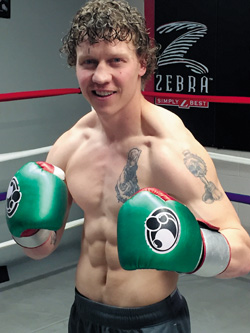 TIMES FILE PHOTO
By Greg Price
Taber Times
gprice@tabertimes.com
The stakes were higher this time around and Taberite Joel 'Bam Bam' Mills more than answered the bell with a dominating unanimous decision over Alvaro Enriquez in Calgary on Friday at Deerfoot Inn and Casino, as Mills continues his boxing comeback after a long layoff due to injury.
"I knew he was going to be tough, I knew he had a ton of experience and I knew he was a guy who knew how to survive," said Mills. "I think that is why it was so difficult to knock this guy out, because it's tough to knock out a guy who is out there to survive. If you have a guy who is going out there and being really aggressive, he opens himself up. But if he's out there to weather the storm until he sees my openings, it's like a chess match, and it's hard to get clean shots in on a guy like that."
Nevertheless, while not able to knock out his opponent like he did against Justin Schmit in his return to the boxing ring on his birthday last year, Mills did put on a clinic with flurry of body blows, where at first Mills thought he was going to get an identical first-round knockout like last time.
"My plan was to come out in the first round and hit him with a nice hard jab which is what I did, and then start looking for that right hook/left hook to the body. Right at the end of the first round I caught him with a liver punch," said Mills. "Most guys would have stayed down from that. I thought it was going to be another first-round knockout. When you hit a guy like that with that clean of a punch, it's pretty hard to get up. But, he was a tough guy, he wasn't going to lay down and he was going to make me earn it."
Going the full six-round distance, Mills began to build a big lead on all the judge's scorecards as the rounds progressed. While building a big lead, it still put a little worry in the back of Mills' mind not to let the match slip away by leaving himself overexposed to a one-punch comeback by Enriquez.
"That happens a lot. Because he was a seasoned veteran, a lot of times a guy's strategy is let the young buck tire himself out, take him in deep waters and then in the later rounds, come on strong," said Mills. "You see that all the time in boxing, the veteran weathers the storm and then comes back to win the fight in the later rounds. That was in my mind and my corner man was continually warning me to 'be safe in there, you know what he's doing.' By rounds four, five, six, I was comfortable enough and I knew I was ahead enough on the scorecards and I played it a little more safe."
So comfortable was Mill sin fact, his boxing clinic resulted in the lopsided unanimous decision of 60-54, 60-53, 60-53 on the judges' cards. There were five boxing matches on Saturday's card that proved more entertaining than Mills' first comeback fight that saw many tilts end quickly.
"There were really good fights this time. I think there was only one fight that was a knockout, the rest went the distance," said Mills. "They were very competitive fights. It was a good night, the fans that came out got to see some distance fights."
The fans that came out for Mills fight were plentiful as there was once again a 'homefield' advantage of sorts for the Taberite as fans from all over southern Alberta including Taber, Calgary, Brooks, Lethbridge, Bow Island and Foremost who made the snowy trek to Calgary on Saturday. There was also some people from his California boxing days that made the trip along with a little bit of Mills' cult following from Ellismania.
"It was crazy this time. The support is just unbelievable, it's surreal. I just feel so blessed and am so lucky to have people like that who support me," said Mills. "Thanks to everyone for coming out. The support from this town, this is why I do it, they are my heart. And I give thanks to my wife and my kid, they are my inspiration."
For Mills, there was definitely a different feel to Saturday's fight as opposed to first comeback fight last April, as expectations varied.
"I felt the pressure like I used to feel. The first fight was just for me to see where I was. But this one felt like the eyes of the boxing world were on me a little bit more," said Mills. "I had to step up to prove I belonged again. There were more butterflies with the raised expectations. I passed the test, a knockout would have been nice. But winning every round on the score cards, I think I proved my point. He caught me with one right hand where I thought I was going to slip outside of it and I didn't. That can be dangerous because you are slipping into the momentum of the punch. Put apart form that, I stayed out of trouble."
While not totally etched in stone, it looks like Mills will finally be able to get in his much anticipated home boxing debut, as promoters are in the works securing a fight card in Taber on July 15.
"It's still tentative right now, but that's the date we are looking at. There's still some things we have to figure out," said Mills.