Tournament royalty
Posted on January 25, 2017 by Taber Times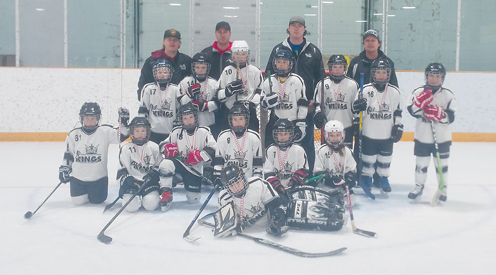 TEAM SUPREME: Taber novice Oil Kings took the tournament title in Strathmore. TIMES PHOTO SUBMITTED
Taber novice Oil Kings won a tournament in Strathmore earlier this month.
The team's last game of the tournament was a 13-2 win over Chestermere Lakers.
Chase Stronge, and Konnor Wiebe had hat tricks and Ayden Umbach had two goals. James Ruggles, Nixen Miller, Ella Howg, Cruz Duell, and Lincoln Weiss had singles.
Earlier, the Oil Kings beat host Strathmore Storm 11-3.
Stronge had a hat trick and Raiden Koizumi and Avery Remfert had two goals apiece. Umbach, Ruggles, Wiebe and Ryler Kiss had singles.
The team did play Chestermere Lakers earlier in the tournament in an 8-2 win.
Stronge had a hat trick and Wiebe tallied twice. Umbach, Miller and Duell had singles.
Heading into its gold-medal game, the Oil Kings blanked Carstairs Bruins 9-0.
Stronge had a hat trick and Wiebe, Remfert, Ruggles, Koizumi, Umbach and Roman Capner had singles.
In regular-season play, the Oil Kings dropped a 14-5 decision to Irvine Bulldogs in Vauxhall on Sunday.
Stronge scored four goals and Wiebe had a single.
MIDGET: Taber midget Oil Kings played two games over the weekend, tying the first 1-1 on Saturday.
Ryan Mankow scored with assists by Logan Wiebe and Braxton Kinniburgh.
The Oil Kings were then edged 6-5 by Picture Butte on Sunday.
Mankow, Wiebe, Dylan Jones, Clay Leismeister and Dawson Hendricks scored for the Oil Kings.
ATOM: Taber Oil Kings dropped a 25-1 decision on Friday night to the Raymond 'A' team with goalie Shaylee DeBona under siege with 89 shots on net.
Wyler Langhofer scored with an assist from Jaxson Coutts in the loss.
The team followed up with a 5-2 loss to Lethbridge Scorpions on Saturday.
Tage Jensen scored both Oil Kings goals, with Tyson Church getting an assist.
INITIATION: Taber initiation 3 Oil Kings beat Pincher Creek 24-2 on Saturday at the Taber Arena small ice.
Dane Degraw, Ethan Volk, Nate Kramer, Griffin Olfert, Charlie Ruggles, Kellon Schalk, Emmett Ruggles and Ryder Nielsen all had hat tricks.