Rebels defeat familiar foe for title
Posted on January 18, 2017 by Taber Times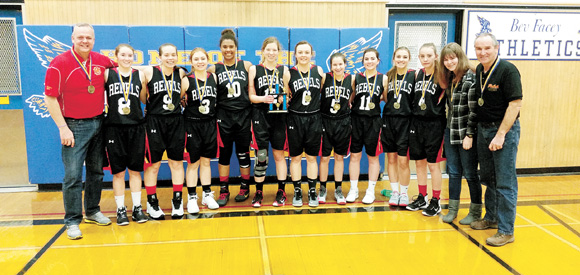 TEAM SUPREME: W.R. Myers Rebels varsity girls basketball team powered its way to a tournament championship this past weekend. TIMES PHOTO SUBMITTED BY KENNEY WOOD
By Greg Price
Taber Times
gprice@tabertimes.com
The two teams may be 400 kilometres apart, that doesn't mean W.R. Myers Rebels and Lindsay Thurber Raiders girls basketball teams do not have a rivalry going.
The two teams squared off in the championship match of a Bev Facey tournament over the weekend, and the Rebels took gold with a 58-41 victory.
"In the last three years, we've probably played them seven times and they haven't got us yet, knock on wood," said Kenney Wood, head coach of the W.R. Myers Rebels varsity girls basketball team. "But they are always up for the challenge. They are very physical and they run up and down the floor hard. They are a tough team. We got ahead a little bit and we were able to keep our lead and they ran out of steam. It's a friendly little rivalry we got that you don't usually see when they don't live in a city close to you. We are going up to a tournament at Red Deer College where we will likely be playing them again in the second round."
Millay Johnson led the Rebels with 23 points and Kitawna Sparks had the double-double with 14 points and 12 rebounds. Natalie Hoyt chipped in 12 points.
"It was a fun tournament where everyone got playing time and everyone is getting better which is what I want to see," said Wood.
The rebels dominated their way to the championship final, first upending Archbishop Jordan 64-25 in its opening game.
"We didn't really have much of a book on Archbishop Jordan, but they are an 800-plus school, so they are 4A. I'd think they'd have something, but they didn't have many shooters," said Wood. "So we were able to play a zone and they struggled. We were not letting them come in and they weren't looking to shoot much outside at all."
Sparks had 125 points and Hoyt added 13.
The Rebels reached the championship final by bating Harry Ainlay from Edmonton 81-50.
Johnson had 22 points and Hoyt chipped in 14 points. Sparks had anther double-double of 12 points and 10 rebounds.
"They have 2,600 students plus, Harry Ainlay has been a solid contender year after year. It's good to beat them as little W.R. Myers, going up against a big Titan," said Wood.
In Southern Alberta High School Girls Basketball League play last week, the Rebels played another classic against the Raymond Comets, earning a one-point win, 71-70 at home.
"We played them earlier in the Cardston tournament and it came down to the last shot. Same as this game. They made their last shot and beat us (in Cardston), and in this game we sort of did the same thing," said Wood. "I knew the type of game it would be. It would be back and forth, scrappy, go, go, go. They were shooting extremely well and we shot well. Their team is pretty tough where a lot of their players are interchangeable except for a couple. There is not a lot of difference between a lot of their players. They are a good matchup."
Johnson had 24 points in the win and Hoyt added 17. Sparks scored 18 points while hauling in 13 rebounds.
"Size wise, we are very similar, and they like to run and so do we. They play hard, hard defence. If you make a mistake, it's two points the other way," said Wood. "We are learning that possession of the ball is very critical and you don't want to make silly turnovers. It's good to learn, and I can't stress it enough, it's so critical to get a good possession each time down the floor, because if you don't, you are giving the other team an opportunity while taking away one from yourselves."
The Rebels travel to Medicine Hat Kwahommies tonight.
"We are going to be going in tough. They played Catholic Central last week and they won by eight, but they were up by 20 at one time," said Wood. "We will have to be on our 'A' game that game and every league game or else we will lose. I like the league this year, it's very level and we are doing well."