Family first in last year of hockey
Posted on January 18, 2017 by Taber Times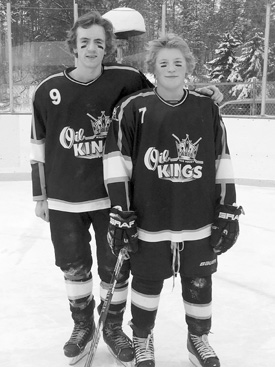 GREAT OUTDOORS: Logan and Gage Wiebe pose for a photo on the outdoor rink the brothers played on in Kalispell, Montana this past weekend. TIMES PHOTO SUBMITTED
By Greg Price
Taber Times
gprice@tabertimes.com
The Taber midget 'A' Oil Kings are a Brothers in Arms sort of team for the 2016-2017 minor hockey season.
There are two sets of brothers on the team in Trey and Walker Ross and Logan and Gage Wiebe.
This is Logan's last year playing minor hockey and he had played "AA" Golden Suns hockey previously at all levels of peewee, bantam and midget, but thought about playing 'A' this year to make some memories with his brother Gage and his friends.
"I just wanted to play with my friends and my brother. It's been a little more fun this year," said Logan. "It was more of a commitment in 'AA' and I have more friends on this team and it's been a pretty good year so far."
The Taber midget 'A' Oil Kings currently hover around .500 with a record of 5-7-1 according to Logan. Logan admits that he is very protective of his brother Gage on the ice, who is a first-year midget player. There will be no one taking liberties with his little brother while he is on the ice.
"If anyone touches him, I'm on him," said the 18-year-old Logan with a sly smile, referring to his 15-year-old brother Gage. "We pick on each other at home, but not on the ice."
Logan noted he does serve as a second coach out there on the ice for his younger brother at times to impart his wisdom. As brothers can be at times, Gage admits he sometimes appreciates the advice — and other times not.
"If he screws up out there, I'm on him pretty quick," said Logan with a chuckle. "I smarten him up, but he definitely improves when I do that, so it's a good thing."
A wide smile comes across Gage's face, as if recalling those brotherly love episodes so far in the 2016/2017 minor hockey season.
"I sometimes tell him to get off my back," said Gage.
There is a good mix of ages on the team with five 15 year olds and seven players playing their last year of midget on the 18-player roster.
"It is a pretty big jump from bantam, playing with the older kids," said Gage, a stay-at-home defenceman who strives to take care of his own end. "I hang back and I'm not as aggressive as my brother would be. The whole team mixes really well, he (Logan) has his friends and I have mine, but we all still hang out together."
Logan, who plays wing on the Oil Kings, admits his physical style had led to double minors at times.
"I get in there and crash and bang I guess," said Logan. "It's obviously slower than 'AA' play. There's a lot more room out there to adjust than 'AA' which is pretty fast," said Logan.
Logan has laced up the skates since he was five years old, and now as he sees the end nearing for him in at least his minor hockey career (men's league is still on the table), he has been appreciative of the voyage over the years in which the last has been spent with his brother Gage.
"It has meant quite a bit to me to play every year. It's been pretty good hockey and has been a good hobby to me," said Logan. "I play it more for fun. I know it's not like I'm going to be playing (professionally) after this. I'm having fun with the guys and my brother while still trying to win."
Part of that fun was playing a couple of exhibition games in Montana recently, including one in an outdoor rink in Kalispell this past weekend, as the Taber midget 'A' Oil Kings won both games.
"It was sweet. I'll always remember that game. The ice was really good, the wind was good that day, it wasn't snowing and it was minus eight out there. It was really nice out there," said Logan.
It was originally supposed to be a multi-teamed tournament, but murmurs were making the rounds that there were going to be some white supremacist rallies and possible violence, so many teams canceled at the last minute.
"The roads were worse than that," said Gage adding there were no white supremacist rallies/protests to be found, but there were sketchy roads up to Montana. "The roads were terrible. We had heard going up that the highways were closed, and it opened up like 10 minutes before we got there. It took us probably double the time to get there than it normally would."
Logan admits he was on the fence when he was first debating on whether to play "AA" or spend his last year playing with his closest friends and brother.
"Having played 'AA' every year since I could, it was a tough choice," said Logan. "But, it's been fun, I'm liking it."