Celtics solid at home tourney
Posted on January 18, 2017 by Taber Times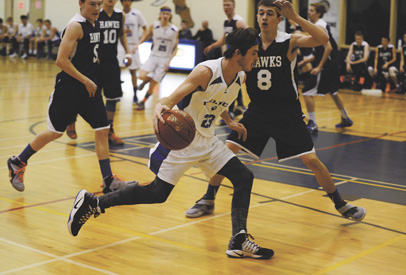 COMING THROUGH: Herman Wiebe of the St. Mary's boys basketball team drives to the hoop during home tournament play at St. Mary's School on Friday evening. TIMES PHOTO BY TREVOR BUSCH
By Greg Price
Taber Times
gprice@tabertimes.com
St. Mary's Celtics boys basketball team won the silver medal at its home tournament this past weekend.
The Celtics were overwhelmed at the start of its gold-medal game against St. Mike's from Pincher Creek. The team rebounded nicely for the majority of the game, but the deficit proved too much in a 70-59 loss.
"They came at us hard in the beginning and we couldn't handle their trap and gave up too many turnovers," said Celtics co-coach Carolyn Siemens. "The first quarter saw us down by 22 points. The team responded well and came back playing hard, and we were able to outscore St. Mike's in all the remaining quarters, but it just wasn't enough as we ran out of time to complete the comeback."
Carl Rodrigo netted 19 points in the loss for the Celtics, who got 10 points apiece from Cobe Cobarubias and Herman Wiebe.
"Cobe really stepped his game for us in this game, helping on the boards and getting lots of rebounds," said Siemens.
The Celtics run started off with an impressive 79-56 victory over Matthew Halton from Pincher Creek on Friday evening.
"Our guards both had great games handling the ball as well as shooting. We had some great rebounding from Mason Muller and Herman Wiebe as well. The boys came out after half and really went hard against Pincher Creek to really solidify the win," said Siemens.
Rodrigo poured in 23 points for the Celtics who got 21 from Jobert Cruz. Wiebe added 10 in the winning effort.
The Celtics were able to advance to the championship of its home tournament by upending Crowsnest Pass 75-57.
"We came out running hard and continued that throughout the whole game. We ended up with some questionable calls in the fourth quarter and had two players foul out, but I was proud of the boys as they handled this with poise and were able to keep it together for the rest of the game," said Siemens.
Rodrigo and Cruz scored 28 and 20 points respectively.
Wiebe came up with the huge double-double, with 15 points and 15 rebounds.
"The boys really improved their passing in finding their teammates. I was really pleased with their play the entire weekend," said Siemens.
The Celtics host Senator Gershaw Gators from Bow Island tonight in River Ridge Basketball League competition. Game time is 7:45 p.m.