'Bam Bam' Mills entering boxing ring again
Posted on January 18, 2017 by Taber Times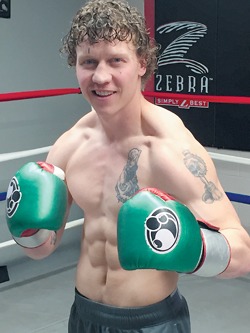 TIMES FILE PHOTO
By Greg Price
Taber Times
gprice@tabertimes.com
For Taberite Joel Mills, he is hoping it's second verse, same as the first as he continues his comeback into professional boxing.
Back in June, 'Bam Bam' Mills made a return to the ring after seven years away from the professional ring, where he made quick work of Justin Schmit with a first-round KO on his 29th birthday.
Mills will return to the same place at the Deerfoot Casino in Calgary where he will fight Saturday, Feb. 4, against veteran Alvaro Enriquez.
"I don't know a whole lot about him, but he's been around for a long time. This will be his 33rd professional bout (13-17-2). He's shared the ring with a few world champions, but never came out on the winning end. But, he will be a tough opponent, it will be a big test," said Mills.
Mills was forced to box a heavier opponent in Schmit at over 174 pounds previously, but this fight will be at his regular super middleweight (168 pounds).
"This is back down to my own weight class," said Mills, adding he is actually feeling a few more ring jitters this time around as compared to jumping in the ring after a seven-year layoff against Schmit. "If anything the jitters are a little more this time. Just because I feel there is a lot more riding on this one. When I first made the comeback in the last fight, I just wanted to see. I saw and now this is a real test."
Mills has looked into some video of Enriquez, along with knowing some guys that have fought him in the past.
"I don't think he is going to come out super aggressive. He's 35 years old, he's going to have some tricks up his sleeve," said Mills. "I just need to use my physical attributes to expose my advantages. I think my strength is going to come into play. The biggest thing I was happy with in my first fight was the power was still there where I knocked out a bigger man. That will be a decisive factor in my comeback. When I retired I was 23, 24, and I wasn't filled out as a man yet and I'm a lot stronger now."
There will likely be five fights on the card with Mills once again headlining the card for Teofista Boxing Series #22. As many familiar faces as there were from Taber in the crowd for Joel 'Bam Bam' Mills last year, it looks like the hometown contingent will be even larger this year.
"This one is going to be bigger. I didn't think we were going to do any bigger than the first one back, but it seems like more people are getting behind me. The support has been unreal," said Mills. "It makes it worthwhile for me."
Mills refers to his upcoming fighter in Enriquez as a 'gatekeeper.' A fighter that is going to test you and make you work for it.
"If you can get by him, it opens up doors," said Mills.
Those doors will hopefully lead to a professional boxing match in the summer back home in Taber, which has been one of Mills' dreams every since he became a professional boxer — to box in the hometown that has given him so much support over the years. Mills was scheduled to fight in Taber during Cornfest celebrations on the Hostile Homecoming card back in 2009, but a fractured right hand suffered while training for the fight derailed those dreams at the time.
"If this fight goes well, I'm going to try and do one in Taber in July and fight for some sort of title," said Mills. "That would be huge. The support form the town has been phenomenal and I appreciate them getting behind me and coming out to the fights."
Mills is a fairly new husband with his first son Macka arriving in late December. The 29-year-old admits he does not take the fighting game with as much reckless abandon as he did before, which is not necessarily a bad thing in becoming a more measured boxer.
"It does drive me more with more riding on every fight. I have to make sure I stay healthy and it does put some more pressure on you because you can't throw caution to the wind anymore," said Mills. "But that can be a good thing with the more technical points of boxing."
Tickets for the fight are still available for Teofista Boxing Series #22 at Pro Performance Athletic Centre at 5402 50th Avenue.