Grant aids in Barnwell School modernization
Posted on January 4, 2017 by Taber Times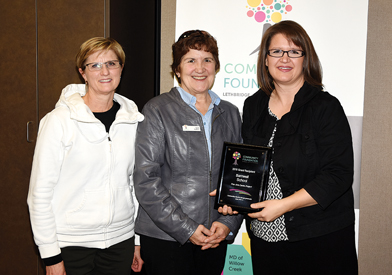 BLEACHER BLISS: Carolyn Johnson (left) and Chrystal Jensen (right) of the Society of Barnwell Parents for Quality Education receive a plaque and cheque for $10,000 from Barb Godkin, member of the board of directors for CFLSA. TIMES PHOTO SUBMITTED
By Trevor Busch
Taber Times
tbusch@tabertimes.com
Barnwell School has received a $10,000 grant from the Community Foundation of Lethbridge and Southern Alberta to incorporate telescopic bleacher seating into their new black box theatre.
"We have built a black box theatre in our school," said principal Sheldon Hoyt. "It's not for the sporting side of the school, this is for the performing arts side of the school."
Currently undergoing an extensive modernization, Barnwell School has big plans for their new theatre once construction is completed and the modernization is finalized.
"We're going to have a unique building," continued Hoyt. "It already has been designed in a very unique way. What it really does is provide seating for 180 people in our black box theatre."
"We are so excited to have received this grant," said Chrystal Jensen, representing the Society of Barnwell Parents for Quality Education, the organization that applied for and received the grant earlier in December. "An important element of developing this black box theatre space was the installation of these telescopic bleachers. The bleachers will provide us with seating for over 100."
Lacking a new home since the Town of Taber terminated a previous lease of the former courthouse, library and police station complex, the Taber Players have expressed interest in the new facility, according to Hoyt.
"It will give us the opportunity to not only put on productions in our school, but it will allow us to invite other organizations to do the same. We've already been connecting with Taber Players to start looking at using our theatre as another alternative, because they don't really have a home anymore. I actually had one of them come through the other day and they're so excited about it, that they might have an opportunity to use this theatre."
Hoyt indicated the new bleacher seating is likely to be incorporated into the modernized school by the end of January 2017.
"Our students are looking forward to having a space to perform and with this grant money, we will be able to provide spectators with a fantastic, unobstructed view," said Jensen. "We can hardly wait for our first performance. In addition, because they are telescopic bleachers, our students and community can retract them and use this valuable space in many other ways. We are excited to explore the endless possibilities."
Other schools in the area that received grants from the Community Foundation of Lethbridge and Southwestern Alberta include Lomond Community School ($10,000, Carpentry Program Equipment) and St. Mary's School ($2,000, Baritone Saxophone).