Orban returning to roots through hockey
Posted on December 28, 2016 by Taber Times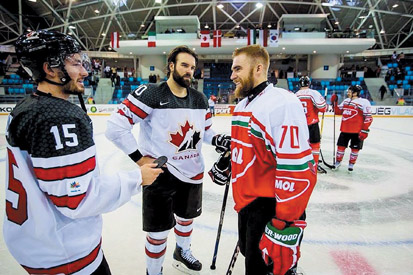 WORLD TRAVELER: While still a young man, Brance Orban has visted more countries in his international hockey career than most people hope to in a lifetime, as Orban honours his family's bloodline by playing in a professional league in Hungary. TIMES PHOTO SUBMITTED BY BRANCE ORBAN
By Greg Price
Taber Times
gprice@tabertimes.com
As numerous leaders in North America are reaching out for international relations this Christmas season, the sports world has seen a former Taber peewee 'AA' Golden Suns player return to his roots in international hockey play in Hungary.
Brance Orban currently plays in the Erste Bank Eishockey Liga (EBEL), an Austrian hockey league, for the Alba Volan Sport Club, based out of Szekesfehervar, Hungary. The EBEL is made up of 12 teams from five different countries in Austria, Slovenia , Hungary, Czech Republic and Italy.
"I always knew I was Hungarian. Both on the Orban side and Liptak side of my family. I was very close with my great grandpa and grandma Orban and they were always so proud of where they came from, and I thought they would be very happy if I visited Hungary one day," said Orban. "I signed as an Import with Szekesfehervar because of the positive experience I had when visiting and meeting with members of the club. I also signed as a way to give back to my grandparents. They did a lot for their family growing up, and I know they would be proud I was playing hockey in Hungary."
Brance Orban has never been a stranger to international hockey, having played previously in both Germany (2013/2014) and Sweden (2014/2015) before making the plunge to Hungary.
"The hockey world is very small and I was in contact with a Canadian coach Tyler Dietrich and he said if I came to Hungary, to come to Szekesfehervar, Hungary and check out the city and meet the management of The Alba Volan Sport Club," said Orban. "Szekesfehervar already had a team in the Austrian League, but was thinking of adding a Hungarian League ( Mol Liga ) team to make the transition smoother for the Hungarian players that were too old for Junior, but not ready to make the jump to the higher Austrian League."
Joining that club had the extra bonus of allowing Brance to bring his beloved Siberian Husky, Sota with him and the two are hardly seen apart.
"In Europe most clubs provide you with your flights, flat, car and you get paid your salary is tax free as the team pays the taxes. "Not all clubs allow you to bring your dog, so it made everything feel right. Sota has a puppy passport and has been to seven countries and counting."
Orban's solid play overseas has led him to earn a spot on the national Hungarian hockey team which meets a few times a year. Each time there is a short list of players invited to a camp and at the camp they select the players they will take to the tournament.
Orban played international games during the first national break of the season which was early November.
"My first game was against Team Canada which was pretty special. I got to play against former NHL players and a couple friends from the AJHL and college," said Orban of the experience in which Canada won 5-1.
Hungary also hosted a tournament in Budapest which included teams from Austria, Italy, Denmark, Poland and Korea. Orban's team would go on to beat Poland 2-1 and Denmark 3-1, before falling to Korea 3-2 in the final. South Korea will host the next international tournament in early February.
"I had a strong showing for my first international tournament," said Orban who finished a plus-2 over three games played.
Orban admits, his pro club has been having its ups and downs this year, but is confident they will be fighting for a playoff spot.
When Orban first signed on in Hungary he was leading his original club Mol Liga in scoring before being called up to the big club for the Austrian League last season, the team he resigned with for the 206/2017 season.
Life in Hungary has led to Brance finding love in mid-November, when he started dating his girlfriend Timea.
"My grandma, Elizabeth Orban, would be so happy to hear I have a Hungarian girlfriend," said Orban with a chuckle.
However Orban decides to continue his hockey career in the future, he will not have to worry abut being declared as an import in Hungary, as he successfully applied for his citizenship alongside his cousins Blake Orban (University of Lethbridge/CIS) and James Orban (Olds Grizzly/AJHL).
"I really have enjoyed the life experience playing hockey abroad. I went into it with open arms, knowing things were going to be different here than in North America. I have tried to embrace the culture everywhere I have lived and I have thoroughly enjoyed it," said Orban. "I am so lucky that hockey has allowed me to see so much of this world that I most likely wouldn't have been able to see without it. I have been to most states in the USA and I have played in, or been able to travel to numerous countries on days off or breaks during my time in Europe, which have included Germany, Netherlands, Denmark, Sweden, Finland, Estonia, Czech Republic, Slovakia, Hungary, Slovenia, Italy, Croatia, Romania and Serbia."
As Brance continues to celebrate his lineage in Hungary playing hockey, he may just have another famous relative in the country itself. Hungary's prime minister is Viktor Orban.
"That is pretty funny. It is not an overly common last name, but you see it around a little bit. There is a chance we are related. My grandpa keeps urging me to try and set up a meeting with the Prime Minister, so I will have to ask him when I meet him," said Orban.
Having played wing predominately since he was 10 years old as a young hockey player, Brance has adopted well to the European style of hockey being played on Olympic-sized ice of 200-feet length by 100-feet width. Having played Division I NCAA hockey at Bemidji State University in Minnesota, half the teas in the league played on Olympic-sized ice.
"Today's game, no matter what the size of the ice, is very fast. If you can't skate, you can't play. On the bigger ice, it is a little less physical and puck control is more of factor," said Orban. "On the NHL-size ice, you have to read and react and make plays now because there isn't enough time and space and sometimes you have to just know where to release a puck. The same can be true with Europe, but sometimes you have an extra split second to make a play in those situations."
The longest strides across the ocean to international hockey all started on the streets of Taber . Orban grew up in a household where everything was about sport, but predominately hockey. The family business was JCST sports gear, so Brance was lucky enough to have the newest equipment every year.
"I also had some pretty awesome street hockey nets and goalie gear. My street, 55th Street, got paved fresh when I was very young. We literally played out there every single day. Some of the Golden Suns would even play with us. That was unreal for me, because when I was that age, I dreamed of playing for the Golden Suns."
That dream would become a reality as Orban would become a part of one of the most dominant lines in Taber peewee "AA" Golden Suns history as Orban manned the left wing, Colton Yellow Horn was centre and Devin Setoguchi was right wing.
"I think its pretty cool that my whole line from Peewee 'AA' is still playing professional hockey. I think it's really special, and we all stay in touch," said Orban. "Ever since I was a little kid, I knew when I grew up I wanted to be a hockey player. I wanted to play pro overseas just like my dad. This long journey has had its fair share of highs and lows, but I can truthfully say I think that's what keeps me coming back. I am so lucky to get to play this game, but every day is a new challenge and this game is full of adversity. I love being with the guys and being part of a team, and I wouldn't trade it for the world."
For Orban, his fond memories are too numerous to mention in first goals from minor hockey, NCAA and professional hockey to his worldly appreciation in his travels.
While far away form home now, it is Orban's first EBEL goal in 2015 as the closest one to his heart.
"It was special because my dad and sister were here visiting. My family and I had overcome so much adversity in that past year and scoring that one single goal with my dad and sister there made it all worth it to me."