Measuring Day fast approaching for hunters
Posted on December 28, 2016 by Taber Times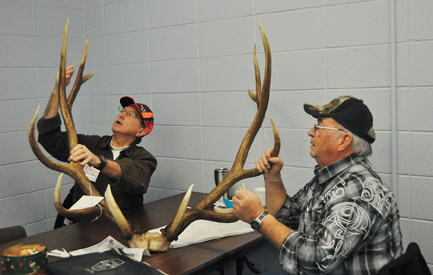 MEASURING UP: Organizers for the upcoming Measuring Day in January are hoping entries are up to be examined. Along with measuring racks, vendors and children's activities are featured. TIMES FILE PHOTO
By Greg Price
Taber Times
gprice@tabertimes.com
A successful hunting season will be showcased Jan. 6-7 at the Taber Community Centre with the Taber Fish and Game Association Measuring Day.
"We are hoping the entries are the same or better than last year," said Dave Chontosh, secretary treasurer of the Taber Fish and Game Association, in which 2016 saw over 100 entries. "There were a lot of tags given out in eastern Alberta which should result in more deer coming in. There has been a lot of sightings for elk on the prairies this summer and fall. They have left around the Suffield military base due to hunting pressures. They've been sighted in Picture Butte, Bow Island, Hays and along the river in the southern part of the province."
There were concerns for Chronic Wasting Disease afflicting some hunters kills where hunters could be compensated with their quota for the following year. Chronic wasting disease (CWD) is a progressive, fatal nervous system disease known to naturally infect white-tailed deer, mule deer, black-tailed deer, moose and elk.
At this time there is no scientific evidence to suggest that CWD in deer and elk can be transmitted to humans. However, it is recommended that any tissue which may have come from a CWD-infected animal not be used or consumed by humans. In Canada, CWD is a reportable disease under the Health of Animals Act, and all cases must be reported to the Canadian Food Inspection Agency (CFIA).
"It was mandatory for you to hand your heads in for examination to see if the deer you shot had Chronic Wasting Disease. You get the results, and if your animal was found to have Chronic Wasting Disease, if requested, you'll get a tag for next year to make up for the one this year," said Chontosh
The pheasant population and hunters alike were aided once again by the hugely successful Pheasant Festival which saw approximately 750 hunters descend on the Municipal District of Taber, all to bag some of the 5,100 pheasants released in 40 different locations by the Alberta Conservation Association.
"This year, we had some of our members help out with the youth hunts which was very well attended by new hunters," said Chontosh. "There are now more pheasants being spotted around the M.D. thanks to the Pheasant Festival,"
The M.D. of Taber continues it coyote reduction program. In recent years this decade, the M.D. averaged between 1,000 and 1,200 coyotes a year that are removed.
According to Alberta Agriculture, ther eis a running population between 7,500-8,000 in the municipality. Coyotes are your higher-profile predators affecting game birds, deer and livestock. There is a bounty system in place with the M.D. of Taber and the Taber and Fish and Game Association for coyote removal up to a certain number.
"The purpose is to put less pressure on ranchers during their calving season. In turn it also increases the bird populations," said Chontosh. "It's turned out to be very successful over the years."
Hunters will be asked to bring in their horns on the Friday Jan. 6 starting at 6 p.m. as volunteers set up the Taber Community Centre Auditorium.
"We want members to bring in their horns Friday so we have less to do on the Saturday," said Chontosh. "We will be giving out the awards the same day (on the Saturday). We also want people to bring in their hunting and scenic pictures for the photography contest, we seem to struggle for entries for that even though people take pictures all the time."
Measuring Day goes on Saturday, Jan. 7 starting at 8 a.m. and going until 4 p.m. in the auditorium of the Taber Community Centre.
"We will have lunch available and there will be vendors coming along with some activities for the kids," said Chontosh. "Volunteers are still needed and everyone is welcome."
Others upcoming activities for the Taber Fish and Game Association include a Family Fun Fishing Day in February with an exact date still to be announced.
"We will have awards for that for various age groups," said Chontosh, adding the date will be advertised in the Taber Times and the organization's Facebook page.