Rebels upend hosts to take tourney
Posted on December 21, 2016 by Taber Times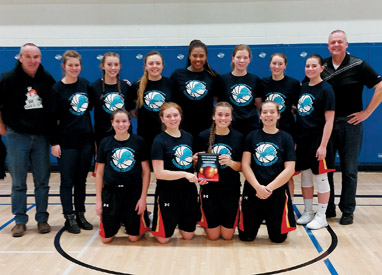 TOP TEAM: W.R. Myers Rebels varsity girls basketball team won its tournament in Coaldale at Kate Andrews in convincing fashion. TIMES PHOTO SUBMITTED BY KENNEY WOOD
By Greg Price
Taber Times
gprice@tabertimes.com
W.R. Myers Rebels varsity girls basketball team dominated in the championship final of the Kate Andrews invitational tournament this past weekend in Coaldale, beating the host Pride 64-28 in the process.
"We came out a little slow, but then we did what we do playing solid defence and they had trouble scoring," said Kenney Wood, head coach of the W.R. Myers Rebels varsity girls basketball team. "It was a good solid effort for the whole team. Everybody got on the scoresheet and everyone put in a ton of minutes."
Millay Johnson poured in 20 points for the Rebels who also got 16 points from Natalie Hoyt.
The Rebels tournament run did have some drama and tense moments in the semifinal, as W.R. Myers survived a 64-62 decision against Immanuel Christian Eagles to make it to the championship.
"We had some foul trouble right off the top. I knew the ref and I knew what he was doing setting a precedence in the first quarter. No reach ins, no grab ins, no slapping, and we didn't catch on," said Wood. "Millay got three fouls in the first quarter and that makes a difference when I don't have the ability to put her on the floor. She didn't play the second quarter at all, that makes a difference when your point guard isn't on the floor. Other people stepped up that game, Natalie Hoyt really answered back and carried a big load (26 points scored)."
The Rebels had a 10-point lead, but then almost imploded with sloppy ball play at the end.
"We had some really bad mental errors and gave them the ball back which allowed them to cut the lead in a hurry," said Wood. "Even in our last play of the game, it was a turnover. We had the ball out of bounds, drew up a play and made a bad throw in and turnover. They had the ball and heaven forbid, if they had hit a three pointer, we would not have gone any further. They didn't make the basket, but they could have tied it up or won the game. Immanuel Christian has a solid program with a good coach and he puts together a good group of girls fundamentally. The fans got their money's worth that game."
Johnson had 11 points and Genna Wright added 10. Lauren Steed grabbed eight rebounds.
The Rebels started its tournament run with a 74-31 win over Heritage Christian Hawks despite only having seven players.
"We had one player who had a band concert, and another player was not feeling well. Kitawna (Sparks) had had a knee that is bothering her (had an MRI on Monday) and she sat out our first two games and played very limited minutes in the final game," said Wood. "Everyone played at least 26 minutes. Girls got the opportunity to play and put the ball in the hoop and confidence wise, that's wonderful."
Johnson and Rachel Jensen both had 15 points apiece in the win and Reagan Bailey had 13 points. Austen Robbins chipped in with 10 points.
The Rebels now have the huge task in front of them of battling LCI Clippers on the road today in league play before heading off for its Christmas break.
"They are supposedly the best in our league and we will see how we match up. I think we should be able to stick with them if we have some solid performances from some of our girls. We may surprise them if they take us lightly because they have been winning big," said Wood.
"They didn't lose any of their key players from last year and the players they got replacements with are as good or better than what they lost. At the end of the year, they should be challenging for 4A provincials. Win or lose, I just what to know the girls went away from that game playing hard."