Midget Suns hound Medicine Hat for tie
Posted on December 21, 2016 by Taber Times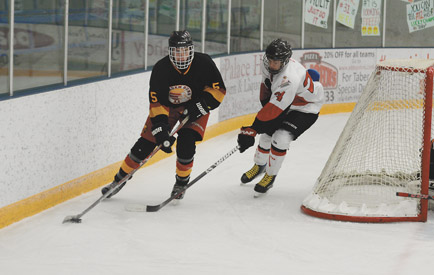 PUCK POSSESSION: Taber midget "AA" Golden Suns' defenceman Kyle Hulit fends off a Cranbrook player as he circles around the opposing net during South Central Alberta Hockey League competition on Friday night at the Taber Arena. TIMES PHOTO BY TREVOR BUSCH
By Greg Price
Taber Times
gprice@tabertimes.com
Taber midget "AA" Golden Suns (7-9-5) had a solid weekend of South Central Alberta Hockey League competition, taking three out of a possible four points.
The team dominated Cranbrook Dynamiters 8-2 at the Taber Arena on Friday night, pelting Dynamiters goalie Adam Andersen with 70 shots on net, as Cranbrook is still looking for its first win of the season (0-23-0).
Logan Kiss scored twice in the win, with Kole Fujita, Weston Graumann, Chase Gedny, Linden Gouw, Hayden Mack and Reed Odland getting singles.
Brady Garner, Gedny and Gouw each had two helpers apiece. Zach Trempner, Graumann, Tanner Turcato, Justin Astalos, Ace Wenbourne and Kyle Hulit drew single assists.
"We've worked really hard in practice the last week bringing some offensive drills to the guys, focusing on that. In previous practices we always worried about our defensive game and playing well in our end. We were happy with what we say offensively on the weekend," said Geoff Oster, head coach of the Taber midget "AA" Golden Suns. "Cranbrook may be the lower team in the standings, but they are full of 15 year olds who work hard and battle hard. It was nice to see all our players contribute right down the line."
Theo Paskuski earned the win goal, facing 27 shots on net.
The team proceeded to battle to a 3-3 draw with Medicine Hat Hounds (15-4-3) at the Taber Arena on Sunday afternoon, furiously battling to tie the game with six seconds left with a goal by Gedny after the Hounds scored to take the lead with under two minutes to play.
"We got a double tip from Wenbourne's shot from the point. It was good to see that we had some net presence that paid off," said Oster.
Also scoring for the Suns were Fujita and Gouw. Kiss, Cole Jensen, Graumann, Trempner, Mack and Wenbourne drew assists.
"We knew we would have to take away their speed and take the offence to them instead of playing defensively in our own end," said Oster. "We were quite happy with the outcome."
Broc Merkl earned the tie in net, facing 36 shots on goal.
Taber midget "AA" Golden Suns begin the New Year at home with a Jan. 6 game against Red Deer Elks at the Taber Arena at 8:30 p.m. The team also hosts Wheatland Chiefs on Jan. 7 at 5:30 p.m. at the Taber Arena.
BANTAM: Taber bantam "AA" Golden Suns (13-5-1) gave themselves an early Christmas present this year by being entrenched in the top spot in the South Division standings of the South Central Alberta Hockey League heading into the holiday season.
The team split its two games over the weekend, starting off with a 9-2 win over Medicine Hat Hounds (6-12-1) at the Taber Arena on Saturday evening.
"When you reach the halfway mark of a season and you are fortune enough to be at the top, you know teams are going to come to play and the boys know that," said Cam Cleland, head coach of the Taber bantam "AA" Golden Suns. "Long wins streaks are something to be proud of, but you know they are going to come to an end at some point. Being at the top of the division, other teams are measuring themselves against you and they elevate their game."
Colby Garner tallied twice to go with two assists. J.D. Hall also scored twice. D.J. Tonin, Nolan Price, Kolby James, Cody Stange and Gerrat Harty had singles. Tonin and drew three assists. Carson Cleland, Stange, Jayden Kostiuk, Price, Gabe Neufeld and Zach Young had single assists.
"We generated well that night in our scoring opportunities. Medicine Hat has had games where they've played the top teams tough. They actually had a pretty good first period. We just kept up the pace and generated more in the second and third period," said Cleland.
Marek Andres was solid in net in a game the Suns were outshot in, stopping 35 of 37 shots on goal to earn the win.
"Marek is a first-year goalie and he's really come into his own and is getting better all the time. That was the club he got cut from, and I don't know if that made a difference (revenge game, playing with a chip on his shoulder). He's consistently getting better for us," Cleland. "We are probably going to lean on him more in the second half of the season."
The team hit the road on Sunday and dropped a tight 3-2 decision to Lethbridge Hurricanes (7-8-4), in a contest Cleland admitted the team played flat in.
"No disrespect to Lethbridge, but they are a Jekyll-and-Hyde team. They had a real soft one Saturday against Okotoks where they gave up eight or nine breakaways and their goalie kept them in it in a 4-3 loss," said Cleland. "It was the first time we had played them in league play and it was by far their best game they've probably played in the first half. It was our first game in like the last 14 or 15 where we played flat. We didn't play terrible, but it didn't resemble the level of play we had in those previous games. You can't expect it to be wins every night and you are going to have games like these."
Price scored both Suns goals, getting assists from Hall and Kostiuk.
Blake Vaselenak took the loss in net, facing 23 shots on goal.
Taber bantam "AA" Golden Suns return to SCAHL play with a Jan. 13 game against Cranbrook Hornets at the Taber Arena at 8:30 p.m. The team hits the road on Jan. 14 with a game against Airdrie Lightning.
"Coming off the high, that loss is humbling and now we have our Christmas break, and this loss will keep us a little more alive and focused during that break, giving us more energy in our practices. Turning a loss which is a negative into a positive, we use it as motivation and the one thing it does is we have to practice hard and be ready for Cranbrook," said Cleland.
PEEWEE: Taber peewee "AA" Golden Suns (7-5-3) were victorious heading into the Christmas break, with a 5-3 win over Airdrie Lightning Red (5-13-2) in South Central Alberta Hockey League play on the road on Saturday.
Rylen Roersma got the hat trick to go with two assists with Nathan Verloop and Ty Fraser getting singles. Verloop, Jed Magarrell, Tyler Maslen and Griffin McCulloch drew assists.
Scot Sidam had a quiet game in net, facing 18 shots on goal to earn the win.
Taber peewee "AA" Golden Suns return to SCAHL play on Jan. 8 with a home game against Red Deer Parkland at the Taber Arena at 1 p.m.