Celtics dominated by Vikings
Posted on December 21, 2016 by Taber Times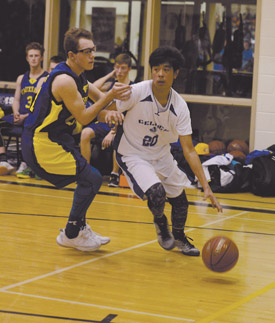 DRIVING LANE: Cobe Cobarubias of the St. Mary's Celtics boys basketball team beats his defender off the dribble baseline during River Ridge Basketball League competition last Wednesday at St. Mary's School. TIMES PHOTO BY GREG PRICE
By Greg Price
Taber Times
gprice@tabertimes.com
St. Mary's Celtics boys basketball team continues to be a work in progress as the squad lost to powerhouse Vauxhall Vikings 93-35 in River Ridge Basketball League competition last Wednesday at home.
"We started off competing fairly well right off the start. We had some good, open shots, but we couldn't make them and then they would come back and score on our misses pretty easily," said Ken Gabruck, head coach of the St. Mary's Celtics boys basketball team. "And then it seemed like everyone gave up at a certain point, they got frustrated. Our defence was non-existent for most of the game where they just scored at will."
Saddled with the task of size mismatches all over the floor with an extremely athletic Vauxhall Vikings team that features two-sport stars with the Vauxhall Academy of Baseball as well, rebounding was a chore along with handling the Vikings' penetration to the basket.
"We had our troubles one-on-one, but we weren't getting the help-side defence either," said Gabruck, adding he tipped his hat to the efforts of Herman Wiebe who notched 12 points in the loss. "He is a guy who is 5'11 who is constantly being asked to guard guys 6'4, 6'5, and he works hard all the time. He gives a consistent effort game in and game out."
Gabruck sees the ability for the Celtics to be a fast-break team, but the squad must handle the ball better, especially when dealing with presses.
"We have to be better in all aspects in getting the fast break going. When teams put a little pressure on us, we can't find the open man. The person handling the ball has to create some space and the person getting the ball has to find the open lanes," said Gabruck.
The Celtics headed to Senator Gershaw Gators on Monday night where Gabruck was seeing just as big of a challenge with the ferocity Senator Gershaw brings in portions of its game.
"Facing them last year, they are a team that just wears you down. They are a strong rebounding team."
As the team heads into the New Year for 2017, the squad will prepare for its Double Blue Tournament January 13-14.