Novice Oil Kings find silver lining at tourney
Posted on December 14, 2016 by Taber Times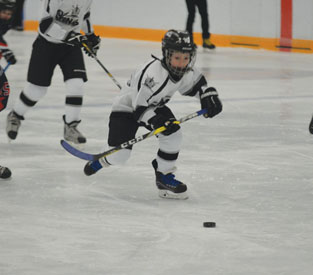 PUCK LUCK: Ayden Umbach of the Taber novice Oil Kings pushes the puck up ice during Shawn Anderson Memorial Hockey Tournament play at the Taber Arena on Saturday morning. TIMES PHOTO BY NIKKI JAMIESON
By Greg Price
Taber Times
gprice@tabertimes.com
Taber novice Oil Kings were silver medalists at its home tournament this past weekend at the Taber Arena.
The gold-medal game was a 14-9 loss to Olds.
Chase Stronge had four goals and Konnor Wiebe tallied twice. Raiden Koizumi, Ayden Umbach and Roman Capner had singles.
The Oil Kings started things off with a 13-1 win over Brooks.
Stronge had four goals and Umbach had a hat trick.
Wiebe and Lincoln Weiss both had two tallies. Avery Remfert and Ryler Kiss had singles.
The Oil Kings also beat Southwest Cougars Blue 10-2.
Wiebe and Stronge both had hat tricks and Capner, Umbach, Weiss and Heston Hansen had singles.
INITIATION: Taber initiation Oil Kings won two out of three games it played in a tournament in Picture Butte.
The first game was an 11-2 win over Medicine Hat Ice.
Kellon Schalk, Ethan Volk and Dane Degraw notched hat tricks and Griffin Olfert and Nate Kramer had singles.
The team proceeded to drop a 12-7 decision to Okotoks Flyers.
Degraw had a hat trick and Schalk and Emmett Ruggles had two tallies apiece.
The Oil Kings finished things off with a 12-7 win over Coaldale Cobras.
Degraw, Volk and Schalk all had hat tricks. Kramer scored twice and Ruggles had a single.
ATOM: Taber atom 'A' Oil Kings earned the silver medal at a hockey tournament in Morley this past weekend.
The team's first game was an 8-3 win over Blackfoot Chiefs.
Callie McCulloch had two goals and Evan Koizumi, Connor Chapman, Sam Tolsma, Jayden Holland, Nathan Planger and Rex Bell had singles. Chapman had two helpers with Tolsma, Carter Jensen, Kellen Lauren and Hayden Span getting single assists.
The Oil Kings proceeded to edge Bow River Gold 2-1.
Chapman scored both goals with assists from Koizumi, McCulloch and Hunter Damberger.
The team finished off playing Bow River White twice, including the gold- medal game.
The first game was a 5-3 in which McCulloch tallied twice and Chapman, Jensen and Tolsma had singles.
The gold-medal game was a 4-3 loss. Chapman, Span and Tolsma scored with assists from Holland and Planger.
MIDGET: Taber midget "A" Oil Kings had a busy weekend of hockey play with three games.
Friday's game was an 8-1 loss to High River.
Clay Leismeister scored with an assist from Mitch Young.
Saturday's contest was a 3-1 loss to Lethbridge.
Dallas Bodnar scored the lone Oil Kings tally.
The Oil Kings ended the weekend on a winning note, beating Picture Butte 9-2 on Sunday.
Bodnar, Young and Dylan Jones all had two goals. Spencer Phillips, Dustyn McCracken and Ryan McDonald had singles.
Dawson Hendricks and Ryan Mankow both had two assists apiece. Ryan Hubble, Rory Murphy, Ryan McDonald, Kadin Reynolds, Gavin Hoskins and Nathan Kaye all had single helpers.