Bantam Suns use power play to defeat Warriors in battle
Posted on December 7, 2016 by Taber Times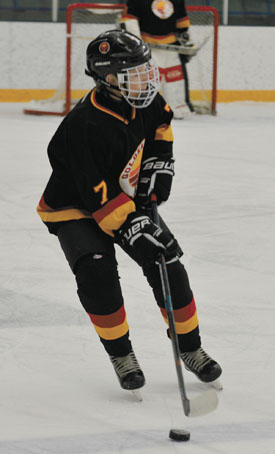 BREAKOUT: Carson Cleland of the Taber bantam "AA" Golden Suns looks to pass the puck cross ice on the power play against the Wheatland Warriors at the Taber Arena on Friday night. TIMES PHOTO BY GREG PRICE
By Greg Price
Taber Times
gprice@tabertimes.com
Taber bantam "AA" Golden Suns (12-4-1) rallied back from a two-goal deficit thanks to the help of its power play to beat Wheatland Warriors (6-10-2) by the score of 4-3 at the Taber Arena on Saturday evening in South Central Alberta Hockey.
"We were a little soft in the first period. They brought a good gamewhere they play a lot of dump and chase, which is a good way to go about it, but it's not always the most exciting way to play. They kept it simple and put a heavy forecheck on us with a few guys that are very physical and they do their job well," said Cam Cleland, head coach of the Taber bantam "AA" Golden Suns. "The only part about the physical play is they weren't quite disciplined enough and they gave us some power plays and we were 3-for-4 on the power play. Being physical helped them get into the game, but it might of been their Achilles heel of why they lost the game."
Three of the Suns' four goals came via power play. Tristan Miller had two goals and Gabe Neufeld and Kolby James had singles with James scoring on the power play with 46 seconds left in the contest to seal the win.
James, Carson Cleland, Cole McClelland, Colby Garner, Cody Stange, Nolan Price and Jayden Kostiuk drew assists.
Blake Vaselenak faced 28 shots on goal to earn the win for the Suns.
"When we were down in the third period the message was simple to the boys. When someone is trying to take two points away from you in your own barn, if you play average you lose, but if you go out there and step it up and play hard for 20, you got a chance to win," said Cleland. "The third period was by far our best period. One player made a big difference in Jayden Kostiuk who played an extremely good game for us. A big centre iceman, he was hard to handle on the power play for us and did a great job supporting the defensive zone."
Taber bantam "AA" Golden Sun are in a tournament this weekend in Cranbrook.
"It should be exciting for us, facing a lot of different teams. Teams out west, you got a team from Spokane, Nelson, Edmonton," said Cleland. "We will get to see teams we've never seen before. It will be good to see how we match up with teams from different areas."
Taber bantam "AA" Golden Suns return to SCAHL play on Dec. 17 with a game against Medicine Hat Hounds at the Taber Arena at 5:30 p.m. The team then travels on Dec. 18 to take on Lethbridge Hurricanes.
MIDGET: Taber midget "AA" Golden Suns (6-9-3) split its pair of South Central Alberta Hockey League games this past weekend starting off with a 4-2 doubling of Okotoks Oilers Green (5-5-3) on the road on Saturday.
Chase Gedny and Logan Kiss each had a goal and an assist. Brant Mack and Zach Trempner also tallied. Linden Gouw, Kole Fujita, Kyle Hulit and Cole Jensen drew assists.
Theo Paskuski earned the win in goal, facing 38 shots on net.
"The guys really played well. They followed the game plan that was put in place for them and they executed very well. It was one of our better team games," said Geoff Oster, head coach of the Taber midget "AA" Golden Suns. "We were quite happy with the work ethic and effort from the kids that day."
Taber midget "AA" Golden Suns proceeded to get shut out by CRAA Gold (7-2) 2-0 on the road on Sunday.
Broc Merkl took the loss in net, facing 33 shots on goal.
"It was a tough game overall generating offence. They had one power play goal and the other goal went in off of us. All in all we were quite happy with the game," said Oster. "We weren't happy we were unable to capitalize on our opportunities, however you make your opportunities by hitting the net and that's something we've been struggling with."
Taber midget "AA" Golden Suns host Cranbrook Dynamiters at the Taber Arena on Friday at 8:30 p.m. The team then travels to Lethbridge to take on the Hurricanes on Sunday.
"We've had a pretty hard schedule to start the season. It hasn't been in our favour at all. We are looking forward to a nine-10 game homestand coming up here pretty quick," said Oster. "We have to show up for both these games coming up being two in a row. Cranbrook may show statistic wise they are one of the lower teams, but we've played them before and they are going to be the surprise of the league being young. We cannot take them lightly and Lethbridge is about the same team as us. We are going to have our work cut out for us this weekend."
PEEWEE: Taber peewee "AA" Golden Suns (5-4-3) dropped a 12-7 decision to Medicine Hat Hounds (10-2-3) at the Taber Arena on Sunday afternoon in South Central Alberta Hockey League competition.
Rylen Roersma scored six of the seven Suns goals with Ty Fraser getting a single.
Nathan Verloop, Fraser and Rylan Millo each had two assists apiece. Roersma, Tyler Maslen, Jed Magarrell and John VandenElzen all had single helpers.
Landon Porteous took the loss in net for the Suns, facing 39 shots.
Taber peewee "AA" Golden Suns hit the road this weekend with a Saturday contest against Central Alberta Selects and a Sunday game against Red Deer.