Tough road trip nets split with south contender in SCAHL competition
Posted on November 30, 2016 by Taber Times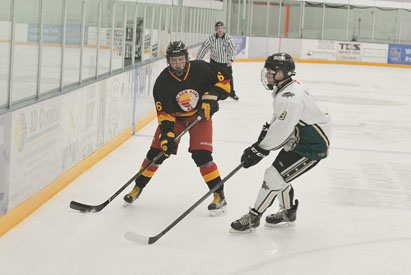 PRESSURE: Cole Jensen of the Midget "AA" Golden Suns attempts to thread the puck past an opposing defender during SCAHL play on Friday evening at the Taber Arena. TIMES PHOTO BY TREVOR BUSCH
By Greg Price
Taber Times
gprice@tabertimes.com
In a battle of the top two teams in the South Division of the South Central Alberta Hockey league, the Taber bantam "AA" Golden Suns (11-4-1) split its road two-game set with the Cranbrook Hornets (9-6-3) in the tightest of margins.
The Golden Suns dropped the first game 6-5 on Friday night, surrendering the winning goal with 2:34 left to play in the third period, as the squad started its grueling road trip.
"Because it was in Cranbrook, 13 and 14 year old kids don't have a lot of experience with riding a bus for five-and-a-half hours and then trying to stretch out and get in game mode. It's definitely an advantage for the home team in a game like that, but Cranbrook will have to do that with us coming back later in the season," said Cam Cleland, head coach of the Taber bantam "AA" Golden Suns.
"I think we did a decent job of it. To tell you the truth, I think we did a bit better of a job on the Friday night than we, where we deserved to win that game a little more than we deserved to win the Saturday game. We pushed really hard in the last five minutes to tie it up."
Jayden Kostiuk tallied twice for the Suns with singles from Colby Garner, Kalem Haney, and Gabe Neufeld. J.D. Hall registered two assists with D.J. Tonin and Zach Young getting single helpers.
Blake Vaselenak took the loss, facing 31 shots on goal.
The bantam "AA" Golden Suns managed to bounce back with an 8-7 win against the same Hornets squad on Saturday afternoon.
Kostiuk and Kolby James both notched two goals apiece with Tristan Miller, Neufeld, Garner and Nolan Price getting singles. Tonin and Miller both recorded two assists apiece. Young, Haney, Cody Stange, Price, Hall and Cole McClelland all drew assists.
Marek Andres earned the win in net, facing 35 shots on goal.
"On the Saturday game, we really didn't have the attention and energy in our game with the forecheck and backcheck to get ahead and put it away. We were a couple goals down in the third period. I told the kids at that point in time that Xs and Os were not going to win the game for us. They'd be happy to get four points off us. For 20 minutes you got to go out there and be hungry and find a reason why you want to win the game," said Cleland. "The best part of the weekend was they did that in the third period. Our forecheck turned pucks over and we scored goals. But, we were still fortunate. They pressed hard on us in the last 45 seconds where they pulled their goalie and it was 50/50 where one of those pucks easily could have gone in."
Taber bantam "AA" Golden Suns host Wheatland Warriors on Saturday at the Taber Arena at 5:30 p.m.
MIDGET: Taber midget "AA" Golden Suns had a tough weekend of SCAHL play, dropping both of its games.
The first was a 9-7 decision at the hands of the CNHA Blazers at the Taber Arena on Friday night.
Tanner Turcato, Zach Trempner, Brant Mack, Weston Graumann, Linden Gouw, Brady Garner and Chase Gedny all scored. Turcato, Hayden Mack and Brant Mack all had two helpers apiece. Logan Kiss, Ace Wenbourne, Garner, Kole Fujita, Trempner and Justin Astalos all had single assists.
Broc Merkl was peppered with 46 shots on net in the loss.
The team proceeded to hit the road where they dropped a 5-3 game to Medicine Hat Hounds.
Gouw tallied twice and Garner had a single. Fujita and Graumann both had two assists apiece and Trempner had a single helper.
Merkl took the loss in net, facing 47 shots on goal.
Taber midget "AA" Golden Suns are on the road this weekend with a game against Okotoks Oilers Green on Saturday and a Sunday game against CRAA Gold in Calgary.
PEEWEE: Taber peewee "AA" Golden Suns return to SCAHL play this weekend after playing in a tournament in Lethbridge this past weekend. The team hosts Medicine Hat Hounds on Sunday at 1 p.m. at the Taber Arena,