Initiation teams earn wins
Posted on November 30, 2016 by Taber Times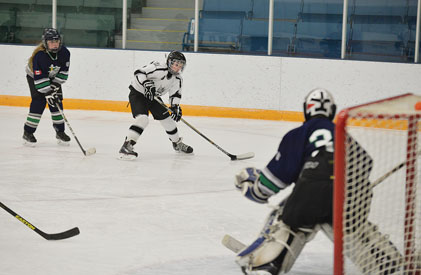 ON TARGET: Kole Reynolds of the Taber peewee Oil Kings prepares to take a shot on net during minor hockey league play at the Taber Arena on Sunday afternoon. TIMES PHOTO BY TREVOR BUSCH
Initiation 1 Oil Kings hockey team earned a 13-6 win over Lethbridge White Horns at the small ice of the Taber Arena on Saturday.
Delphin Deboer, Nathan Gensorek, and Madix Miller all had hat tricks. Burke Hyland had two tallies and Hayden Eldridge and Brodyn Sutka each had singles.
Initiation 3 Oil Kings were also victorious in its game in a 16-4 victory over Picture Butte at home on Saturday.
Dane Degraw, Emmett Ruggles, Nate Kramer, Ethan Volk, and Kellon Schalk each had hat tricks. Griffin Olfert had a single.
The previous weekend, both Initiation 2 Oil Kings and Initiation 3 Oil Kings squared off, with Initiation 3 Oil Kings winning 16-9.
Degraw, Volk, Ruggles, and Kramer each had hat tricks. Schalk had two goals and Olfert and Ryder Nielsen had singles.
Replying for Initiation 2 Oil Kings were Lincoln Wiebe and Jenner Workman with hat tricks. Jackson Jones, Dalin Langhofer and Julian Woordman had singles.
MIDGET: Taber midget Oil Kings skated to a 5-3 win over Lethbridge on Saturday.
Ryan Mankow scored twice and Dustin McCracken, Dylan Jones and Logan Wiebe notched singles. Clay Leismeister had an assist.