Volleyball Celtics earn zone banner
Posted on November 23, 2016 by Taber Times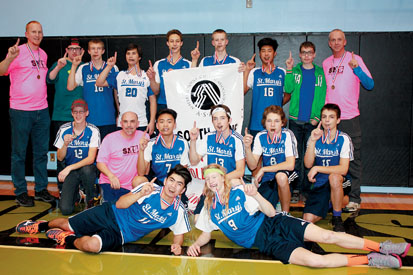 ZONED IN: The St. Mary's Celtics boys volleyball team and coaching staff show off the gold medals they earned at the 2A South Zone Volleyball Tournament at Lethbridge College this past weekend. TIMES PHOTO SUBMITTED BY STACI MULLER
By Greg Price
Taber Times
gprice@tabertimes.com
When push came to shove for the St. Mary's Celtics boys volleyball team in three-set matches, the squad answered the bell on its way to the 2A South Zone banner at Lethbridge College, earning a berth to provincials in the process.
The Celtics ended up squaring off against St. Michael's Dragons from Pincher Creek in a battle of two teams that has similar strengths.
"They are a very big, athletic team. Their strength is up the middle just like us. We matched up very well and the scores proved that," said Derry Kolody, head coach of the St. Mary's Celtics boys volleyball which beat Pincher Creek 25-19, 21-25, 15-12 to earn gold. "We've been able to fight through stuff with how our season has been, having won three tournaments before in the final, and this was our fourth. Being in those situations with a lot of Game Threes, we were 5-0. As long as we are not being ourselves and we go out there relaxed, and the boys are confident. It's walking that fine line, being there enough, you know how to handle that situation."
The Celtics won all their matches, but three of them went the distance on the way to a 5-0 match record and the banner to be hung at the St. Mary's gymnasium.
"I don't know if it was a late match or what, but we didn't seem to have our 'A' game on Thursday (against Immanuel Christian Eagles), but we found a way to win," said Kolody as the Celtics beat Immanuel Christian 25-22, 25-27, 15-13 after dispatching Vauxhall 25-16, 25-11.
It made for a match with plenty of implications with round-robin pool play against Picture Butte Sugar Kings that could have charted the Celtics course to the zone title in a much different way.
"We lose that match and there's a three-way tie for first, we win that match and we get a bye into the semis and we don't have to play that second/third crossover," said Kolody, of the match the Celtics sealed it with a 25-17, 23-25, 15-7 win. "We played relaxed that third set and it really helped. We ended up playing Picture Butte again in the semifinal and we beat them two straight sets. We served them tough, Picture Butte was really scrappy, they didn't go away. We kept swinging and we were more persistent in the end."
It made all for a zone tournament run with different players stepping up at different times, with the veterans carrying the load when needed.
"Hats off to the boys. We passed well when we needed to and we put balls away. My best players were my best players, they showed up and we did the little things well," said Kolody. "They were poised in their deciding third games."
The Celtics now prepare for provincials in Black Diamond this upcoming weekend.
"I got a big book on the teams. Most of the teams we've played twice this year. We will be contenders, but we are going to take one game at a time. If we show up and play our best volleyball, anything can happen," said Kolody. "There's only been one team that has had our number in Central Alberta Christian High School. Every other team we've beat, you hope the ducks line up and you make it to Saturday and you get hot at the right time."