Rebels fall in Tier IV provincial semifinal
Posted on November 23, 2016 by Taber Times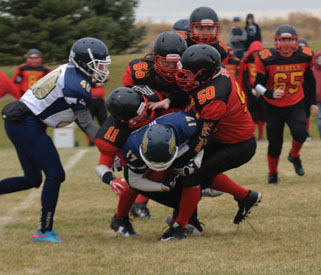 GROUP EFFORT: Ashton Bekkering (11), Thane Buckingham (66) and Peter Waekerlin (50) of the W.R. Myers Rebels football team gang tackle a Bow Valley Bobcats running back. TIMES PHOTO BY NIKKI JAMIESON
By Greg Price
Taber Times
gprice@tabertimes.com
The Bow Valley Bobcats pounced on its prey with its overall team speed, as a depleted W.R. Myers Rebels squad fell 41-14 at Ken McDonald Memorial Sports Park on Saturday afternoon in its Tier IV provincial semifinal, capping an extremely successful overall season.
"Hats off to Bow Valley, that team has incredible speed, and they executed extremely well. I knew going in that we'd have to be at our very best to keep up with them, but that's an expectation you should have going into a Provincial semi-final game," said Jason Jensen, defensive co-ordinator for the W.R. Myers Rebels football team. "They were also really classy in victory, and that's always nice to see."
Down 14-0, the Rebels managed to pull it to 14-7 and seemed to have momentum going forward in the war in the trenches, only to see the speed Jensen spoke of on the ensuing kick off that was returned for the major, a play the Rebels never seemed to recover from mentally. Wyatt Thurston and Evan Harkness would score the Rebels' touchdowns. That was compounded by the injury bug biting once again for the Rebels.
"We lost the league's top defensive back, Brad Marsden, on the first defensive series. We lost senior outside linebacker Ashton Bekkering shortly after that. Those guys just might be our two overall fastest players."
"When you lose guys like that, it becomes so much tougher to keep up with a speed team like Bow Valley," said Jensen. "It forced us to stack our defence more on the outside, in hopes of containing them, and that opened up the middle run for them a little bit as well. Really, they were able to counter pretty well anything we tried to adjust with. When you have a team with a small roster like ours, a couple of key injuries can really sink you. Suddenly more guys are playing both ways, and playing out of position, and you simply run out of gas."
Rebels head coach Adam Hughes also tipped his hat to the Bobcats' speed which caused some mismatches with players switched around for W.R. Myers due to injury.
"They are a good team and they executed their team speed well. They were able to beat us to the edge in terms of sealing us in. Because of injury, we had people playing in different positions they weren't used to," said Hughes. "That was our big fault which allowed some big plays and that's all that needs to happen for something to go wrong."
There were tears aplenty for the seniors on the Rebels in the sting of their last game of their high-school careers, but Jensen noted that will dissipate as the whole team looks back on a hugely successful season for the program.
"Kudos to our boys though, they all fought hard until the end. The loss stings right now, as it always does, but that will fade in time, as we start to look back on this season and realize just how special it really was. To win the Dawson trophy, and finish as provincial bronze medalists is pretty outstanding," said Jensen. "I am damn proud of these boys for what they managed to pull off this year. I've coached a lot of these boys since they were in Grades 6 and 7, so to reach these heights after all these years together is something that will always be dear to my heart."
Hughes noted 2016 will be marked down that the W.R. Myers Rebels football team made it this far in a long time.
"It's disappointing we are not able to go to the provincial final , but we are pretty happy with how the season panned out. We finished ranked third in the province," said Hughes. "That's the best season we've had in the last 10 years."