Bantam Suns rise to the top of division
Posted on November 23, 2016 by Taber Times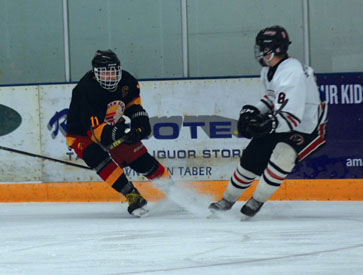 ICE OFF: Chase Gedny of the Taber midget Golden Suns avoids getting cornered by a CBHA player by quickly passing the puck during a game on Friday, Nov. 18, at the Taber Arena. TIMES PHOTO BY NIKKI JAMIESON
By Greg Price
Taber Times
gprice@tabertimes.com
Taber bantam "AA" Golden Suns (10-3-1) took both of its road games against Medicine Hat Hounds (5-10-0) on the weekend, and in the process, vaulted itself atop the South Division standings in the South Central Alberta Hockey League.
"Medicine Hat is third from the bottom, but they have played some of the top teams tough," said Cam Cleland, head coach of the Taber bantam "AA" Golden Suns.
The first was a 6-3 doubling on Friday night.
Kolby James tallied twice and Colby Garner, Gabe Neufeld, Cody Stange and Tristan Miller each had singles. Neufeld, D.J. Tonin, Stange, Kalem Haney and Cole McClelland each had assists.
Blake Vaselenak earned the win in goal, facing 26 shots on net.
"They started their stronger goaltender, it was a good game for us. It was a relatively good game for our first road game in their barn," said
The team proceeded to dominate the Hounds 8-0 in its follow-up game on Saturday afternoon. "We went over some of the areas that we thought we needed to be better as a club on with some key principles. We worked harder without the puck to make sure our backcheck was stronger. We wanted to put pressure on them on both sides of the puck with the forecheck and backcheck," said Cleland.
"We got everyone going skating with short shifts. It was definitely our stronger game of the two where we really didn't give them a sniff of anything."
Neufeld and Jayden Kostiuk both had two goals apiece. Braeden Sheppard, Nolan Price, Tonin, and Wyatt Broderson had singles. Tonin and J.D. Hall each drew three assists apiece. Garner had two helpers and James, Carson Cleland and Stange each had one.
Mark Andres earned the shutout, facing 18 shots on goal.
Taber bantam "AA" Golden Suns are the on road this weekend for a two-game set against Cranbrook Hornets on Friday and Saturday, with the Hornets currently sitting in second place in the South Division, with the Golden Suns having two games in hand.
"We haven't seen those guys yet this year. I saw them play in Lethbridge last weekend, and we are going to respect them for sure. They got a couple of guys that are really strong players," said Cleland. "But I think if we bring a team game to them, they are going to have trouble with us because I don't think they can match out across the board. We don't really have a first line, second line, third line. We have four lines that I can trust on any given night to be better than their line."
PEEWEE: Taber peewee "AA" Golden Suns (5-3-3) were not very welcoming to the Chestermere Lakers (4-5-3) on Sunday at the Taber Arena, doubling them up 10-5 in South Central Alberta Hockey League competition.
Rylen Roersma had the hat trick and Caden Heins and Ty Fraser both had two goals apiece. Zachery Hauck, John VandenElzen and Jed Magarrell had singles. Roersma also registered four assists, with Hunter Van Vaerenbergh getting two helpers. VandenElzen, Griffin McCulloch, Heins and Nathan Verloop drew assists.
"It was a nice offensive output for the team. There are more guys contributing on the scoresheet, which at the end of the day, it doesn't matter who scores or who gets points, but it's nice to see guys get rewarded on the scoresheet," said Adam Magarrell, head coach of the Taber peewee "AA" Golden Suns. "First eight, nine games of the season, we were pretty much a one-line scoring team. If you go on too long like that, teams start to key on that line, and it makes it tougher to generate offence. It's nice to have that balance so teams can't key on one line."
Scout Sidam earned the win in net, facing 31 shots on goal.
Taber peewee "AA" Golden Suns do not return to SCAHL play until Dec. 4 with a home game against Medicine Hat Hounds at 1 p.m. at the Taber Arena.
The team will be competing in a tournament in Lethbridge this weekend, starting with one game on Thursday, then two games on Saturday and one on Sunday morning.
"The competition will be good with some solid match ups for us. There will be teams we haven't played before which is always fun," said Magarrell.
"I'm hoping our team will do well."
MIDGET: Taber midget "AA" Golden Suns (5-6-3) earned a single point in the standings over the weekend in SCAHL play, taking a tie and a loss.
The tie came in a 4-4 draw with CBHA Blackhawks (4-0-2) at the Taber Arena on Friday night.
Zach Trempner, Brady Garner, Brant Mack and Hayden Mack tallied for the Suns. Cole Jensen drew two assists with Tanner Turcato, Linden Gouw, Hayden Mack, Chase Gedny, Logan Kiss and Ace Wenbourne each getting single helpers.
Broc Merkl helped preserve the tie in net, facing 32 shots on goal.
"That was probably one of our best team games we've played all year. The different things we have been bringing to the boys, we've seen the improvement and the buy in, showing we are going in the right direction," said Geoff Oster, head coach of the Taber midget "AA" Golden Suns.
The team was then shutout by Olds Grizzlys (4-5-3) 2-0 on the road on Saturday.
Theo Paskuski suffered the loss in net, facing 34 shots on goal.
"We strayed a bit from our team game. If we had played the same game as we did on Friday night, it would have been a different fate for us," said Oster. "We also didn't get any bounces whatsoever, but you are going to have games like that. You need to learn from it and rebound."
Taber midget "AA" Golden Suns host CNHA Blazers on Friday at 8:30 p.m. at the Taber Arena. The team then hits the road against Medicine Hat Hounds on Saturday in always a tight contest.
"Medicine Hat and us hold a really good rivalry. We enjoy playing them, they are one of the top teams in the league and whenever we play them, we seem to step up our game. Looking forward to a good battle," said Oster.