Novice Oil Kings roll to tourney title
Posted on November 16, 2016 by Taber Times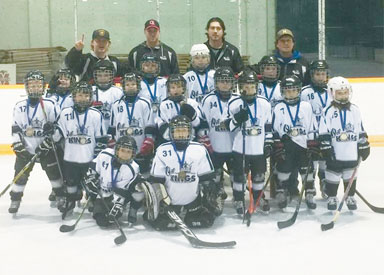 TEAM SUPREME: Taber novice Oil Kings are all smiles after putting on an offensive barrage and winning a tournament title in Fort Macleod this past weekend. TIMES PHOTO SUBMITTED
By Greg Price
Taber Times
gprice@tabertimes.com
Taber novice Oil Kings earned the tournament title in Fort Macleod this past weekend in its gold-medal worthy hockey performance.
The Oilers kicked off its dominating performance with a 29-1 pasting of Lethbridge Junior Hurricanes on Friday night.
Ayden Umbach scored five goals, and Konnor Wiebe, Chase Stronge, Cruz Duell had four goals apiece. Ryler Kiss and Heston Hansen notched hat tricks. Nixon Miller tickled the twine twice. Avery Remfert, Ella Howg, Lincoln Weiss and James Ruggles had singles.
The Oil Kings then skated to a 13-1 win over Calgary on Saturday afternoon.
Stronge had four goals and Duell, Wiebe, and Miller each had two goals apiece. Umbach and Weiss potted singles.
The team continued its goal barrage with a 9-3 win over Edmonton Badgers on Sunday morning.
Stronge lit the lamp eight times with Wiebe getting a single.
The Oil Kings proceeded in Sunday play with a 12-8 victory over Trail West Wolves.
Stronge stayed on fire in the goal department, notching nine more tallies with Umbach tallying twice and Weiss once.
The Oil Kings squared off against the Badgers once again in the championship game, winning 8-5 on Sunday afternoon.
Stronge scored seven times with a single by Wiebe. Registering assists in the championship game were Hansen with two and Umbach, Raiden Koizumi, Kiss and Duell each with one helper.
Avery Remfert earned the win in net in the championship, with Ryler Kiss, Ayden Umbach, and Jaida Peters also earning goaltending wins along the way during the tournament run.
INITIATION: Taber initiation 3 Oil Kings skated to a 19-2 victory over Vauxhall on Saturday.
Dane Degraw, Nate Kramer, Ethan Volk, Kellon Schalk, Haiden Debienne and Emmett Ruggles each had hat tricks. Griffin Olfert notched a single.