Awards aplenty for gridiron Rebels
Posted on November 16, 2016 by Taber Times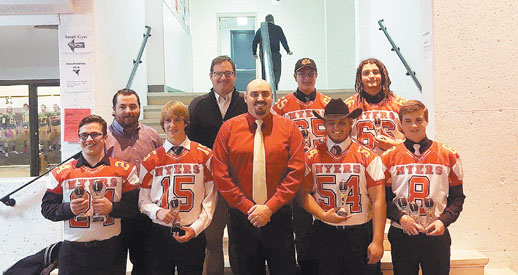 TOP DOGS: W.R. Myers Rebels football team had plenty to smile about at the recent Southern Alberta High School Football League awards ceremony at LCI in Lethbridge as numerous players took home plenty of hardware. TIMES PHOTO SUBMITTED BY JASON JENSEN
By Greg Price
Taber Times
gprice@tabertimes.com
W.R. Myers Rebels football team will be continuing its quest for a Tier IV provincial championship this weekend, but not before celebrating an impressive haul at the Southern Alberta High School Football League award ceremony earlier this month.
The Rebels imprint among the Division 'B' winners was all over the map, with four Most Outstanding accolades, four all-star selections and an MVP to boot for a regular season that saw the Rebels go undefeated and earn a number-one provincial ranking for Tier IV teams with Football Alberta.
Evan Harkness was Most Valuable Player for Division 'B' along with being Most Outstanding Runningback.
"The season Evan has had, has been nothing short of incredible, and given the work he put in the offseason, he certainly deserves every accolade he gets. He has elevated his game to a level that I don't think he himself thought he could reach. He is the type of player that can actually take over a game with his play, and let me tell you, he's been fun to watch," said Jason Jensen, a member of the W.R. Myers rebels coaching staff. "I think what makes this even more impressive, is that he unseated the reigning Most Outstanding Runningback to take the award this year. Truth be told, he probably could have been recognized as an All-Star on defence as well, as his play at middle linebacker has been excellent. I suppose his defensive play gets overshadowed by the offensive fireworks though. As it is, the fact that he is only in Grade 11 is a huge bonus, and I can't wait to see what he pulls off next season."
Bradley Marsden had a hard time carrying all his awards, as he was recognized as Most Outstanding Defensive Back, Most Outstanding Kicker, along with being an all-star at wide receiver.
Marsden led the Rebels this year in interceptions as a ball hawk, to go along with defensive touchdowns.
"Bradley has been one of our best players every year, and this year was no exception. I'm really glad to see him get recognized as the great defensive back he is, as his defensive play is usually overshadowed by his offensive prowess," said Jensen. "He is the type of player that causes offensive co-ordinators to alter their game plans to throw away from him. I feel he was far and away the best kicker in the league, so I am happy to see him get recognized as such. As a receiver, everyone who has ever watched him play knows that Bradley is a game changer. He was a vote away from being named Most Outstanding at that position as well. I've coached Bradley since he was in Grade 7, and I'm sure going to be sad to see him go after this season."
Wyatt Thurston worked his way back from serious injury in his Grade 10 year to continue to play at a high-octane level and earn himself Most Outstanding Defensive Lineman.
"The fact that Wyatt was even able to play this season is remarkable. He went down with a gruesome knee injury late last season, and spent essentially a full year working to get back on the field. Not only did he come back, he has dominated. He leads the team in tackles, and sits third in total tackles," said Jensen. "While he's been a force coming off the end of the line, he has also proven to be versatile, as he's been pressed into duty as a middle linebacker, and as a fullback on offence. Much like Evan, seeing Wyatt dominate like this as a Grade 11 makes me excited to see what he can pull off with another year of maturity."
Thane Buckingham's veteran leadership on and off the field got him an all-star selection at linebacker as a tackling machine.
"Thane is the heart and soul of our defence. He's the type of rock-solid linebacker that a co-ordinator seeks out to build a defense around. I've watched him get better and better every year, and this year he truly became the type of linebacker that I always knew he could be," said Jensen. "He is the type of player than can play without having to think about it, can cover sideline to sideline, and can dole out the type of devastating hits that are required to shut down top runningbacks. It's always been a pleasure to coach Thane, and I'm really going to miss having him on the field, and in the huddle."
Very often you diid not see Brysen Horst's contributions with the Rebels as an offensive lineman, but that's a good thing that this jersey number was not called very often as an unsung hero and all-star in Southern Alberta High School Football League play.
"Brysen is a player that found football later than a lot of other players, but quickly fell in love with it. I've really enjoyed watching him improve year after year, and I'm glad to see him get recognized for his stellar play. Offensive line isn't a position that gets a lot of attention, at least until something goes wrong," said Jensen. "Brysen has been that rock of a player that you can slot into any position on the O-Line, and he'll be just fine. Not only that, but he has demonstrated the ability to be a leader, and that is almost as important as any physical skill. A player like Brysen really is a rare commodity."
Grade 10 and rookie Brett Andrus held his own in gridiron play, so much so that he earned an all-star selection at defensive back.
"Anyone that has followed the bantam program the last couple of years knows what kind of athlete Brett is. We were all convinced that he had the physical attributes to be able to excel at the high-school level, but I've been really impressed with the maturity and mental strength that he has exhibited as a Grade 10. He's been continually asked to cover the league's top wide receivers, and has been fantastic at it. In fact, he's even the team's second leading tackler. Being as he's only a Grade 10, it really bodes well for our defensive secondary going forward," said Jensen. It's been a pretty fun season so far, and to see us take home nine awards, and have six guys recognized is pretty awesome. I'm really proud of all of these guys, and really, I think we have a few more that could have been recognized. I guess you can't win everything though. We still have some football left to play, so maybe we'll bring home some more hardware yet."