VerSet Hockey School looking to stay in Taber
Posted on November 9, 2016 by Taber Times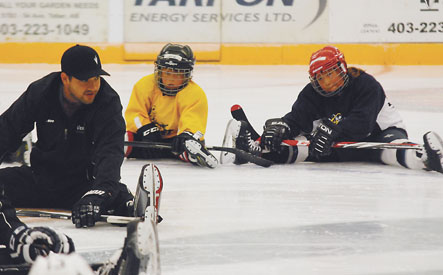 STRETCH ARMSTRONG: Los Angeles Kings' winger Devin Setoguchi goes through some stretches with youth at the VerSet Hockey School back in August. TIMES FILE PHOTO BY GREG PRICE
By Greg Price
Taber Times
gprice@tabertimes.com
Taber Recreation Board is recommending to town council that the VerSet Hockey School that has been a fixture at the Taber Arena for the last six years, have its contract renewed for another five years— with some escalating costs involved.
Rich Wiest, a co-organizer of the camp made a presentation to the recreation board at its Nov. 3 meeting, talking about how both Devin Setoguchi (Los Angeles Kings) and Kris Versteeg (Calgary Flames) have been quite pleased running the camp in the area.
"We've been in Taber for the last six years and previously we were in Coaldale for 19 years (previously Sutter Ice). We like it here, we love the facility and we like the people we work with, so our plan is to be here for as long as we can," said Wiest. "Kris and Devin were supposed to be playing overseas this year so we were going to request the camp be brought back a week (in August), but now they are in the NHL, so now we can stay with our second week again with the ice. They want to be here."
Wiest admitted registration has gone down for the camp since it has moved to Taber, where this past year it was pared down to a one-week camp in early August.
"We lost all the Lethbridge kids who think it's too far to travel. But we know in the rural area like Taber, Enchant or whatever, we all know about the travel for hockey. But they think it's too far to travel to the west side, so they aren't going to come to Taber," said Wiest. "I know they want us back there (to Coaldale, Lethbridge) and with Kris being from Lethbridge, that's a draw. But Kris and Devin, we've talked to them, and they want to stay here. When we were in Coaldale, probably 70 per cent of the kids were from Lethbridge."
Wiest considers a full camp being 40 kids in a group with three different groups.
"We've always had that number until about three years ago, where we've been at around 90 to 100 the last two or three years. We are fine with that. For the parents, it's good with 30 kids on the ice as opposed to 40 kids," said Wiest. "I wouldn't want to see it drop below that number, but I also think the economy has something to do with that as well with oil prices."
Wiest added VerSet Hockey School is the one of the cheapest, if not cheapest hockey camps in Canada.
"We charged $375 last year and there is a Black Elk Hockey School that is in Brooks that goes the same time as us, it's been around for two or three years. It's just midget hockey guys and they charge $475 and they don't have the same ice time as us or do the in-betweens that we do," said Wiest. "That's just one, ones in the Okanagan, Sylvan Lake — they are all close to $500. The reason we can do that is we can keep the costs down here. This camp is not for your elite players, those players think they need to pay for a personal coach. Kris and Devin want a fun hockey school for all ages and all skill levels, and we want to take care of the rural kids."
The 2016 VerSet Hockey Camp had a wide range of participants that included players from Taber, Chestermere, Calgary, Delisle (Sask), Standoff, Seven Persons, Hanna, Lethbridge, Medicine Hat, Redcliff, Strathmore, Coaldale, Vulcan, Lomond, Brooks, Spruce Grove, Beaver Lodge, Innisfail, Prince Albert (Sask.), Fernie (BC), Sexsmith, Saskatoon (Sask.) and Fort Macleod. There were also six participants from Montana in the United States.
"This camp is not just for Taber kids, it's for players from all over which draws people to town," said Wiest. "And what we've found is they love the parking lot camping. It's very convenient with the swimming pool and park nearby for families."
After the delegation, the Taber Recreation Board went into an in-camera session for discussion before coming back into open session to pass two motions involving the VerSet Hockey Camp as part of recommending a five-year contract extension with the Town of Taber if both sides are amicable to the terms.
The first was that the Taber Recreation Board recommend to council that the VerSet Hockey Camp rates increase for 2017 by 1.5 per cent along with a one-percent carbon tax increase. For Year Two to Five, there will be a 1.5 per cent rate increase per year to the rates, plus whatever the carbon tax increase is in each year.
The second motion was that the VerSet Hockey Camp re-negotiate costs associated with signage outside the Taber Arena and with the current contract being completed, the current sign for the camp needs to be taken down.