Depleted Rebels fall to Cobras
Posted on November 9, 2016 by Taber Times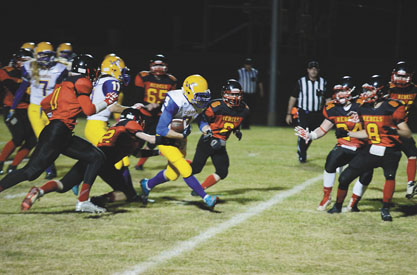 TACKLE TIME: In a low-scoring zone championship game at Ken McDonald Memorial Sports Park on Friday night, both defences were giving up very few yards with sure tackling as the W.R. Myers Rebels fell 13-3 to the Willow Creek Cobras. TIMES PHOTO BY TREVOR BUSCH
By Greg Price
Taber Times
gprice@tabertimes.com
W.R. Myers Rebels football team were snake-bitten with injuries during its zone championship game against the Willow Creek Cobras on Friday night at Ken McDonald Memorial Sports Park in a hard-fought 13-3 loss.
"We had several key players go down with injuries, including both starting linebackers, a starting cornerback and a starting halfback," said Jason Jensen, defensive co-ordinator for the W.R. Myers Rebels football team. "For a lot of teams, those kinds of injuries would mean that the defence folds, but this isn't your average team. We moved some guys around, and called some guys in off the bench, and kept things rolling along. Even though we lost, I couldn't be more proud of these boys. To step up like that in the face of adversity tells a lot about our character."
Head coach Adam Hughes knew the Rebels were going to be in for a dogfight, much like in its previous game against Chinook with the team's one-point win.
Being a run-heavy team, and being minus Division 'B' league MVP Evan Harkness and the number-two running back in the depth chart in Jaxon Shimbashi, made for much adversity to overcome offensively as well.
"That sort of handcuffed us in terms of moving the ball. But, I was very happy with how we buckled down because we were missing numerous key players and we actually won the second half in terms of points (3-0)," said Hughes. "We battled and fought through adversity. We lost which is disappointing, but it's not the end of the year because we are still in provincials."
Being minus half its secondary, the Cobras were able to complete a couple of long passes as the Rebels were forced to shuffle its second tier of defenders, which eventually led to the Cobras' two majors.
"We just have to regroup, and focus on beating Drumheller (on the road this Saturday)," said Jensen, as the Rebels qualified for Tier IV provincials already, regardless of Friday's outcome. "There's still a provincial championship to be won, and we want it."
REBEL YELL: As of Monday evening, the status of various players is still up in the air for Saturday's Tier IV quarterfinal provincial game in Drumheller, with injuries that were suffered in Friday's game. "We still don't know entirely. As of right now, we may have all hands on deck, as everyone is progressing nicely," said Jensen. "No one has been ruled out by doctors yet."
Tate Platt may not be playing in Saturday's game, having been ejected late in Friday's game for delivering a controversial block on a Rebels kick return, resulting in a one-game suspension. The suspension is being protested by the team.