St. Mary's Auroras take tourney title
Posted on November 2, 2016 by Taber Times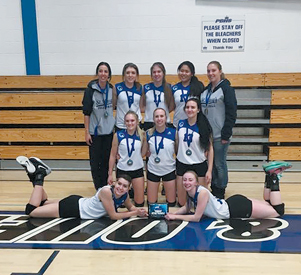 GIRLS CLUB: St. Mary's Auroras girls volleyball team are all smiles after earning the tournament title at the Picture Butte Royal Rumble late last month. TIMES PHOTO SUBMITTED
By Greg Price
Taber Times
gprice@tabertimes.com
St. Mary's Auroras varsity girls volleyball team emerged champions of the Picture Butte Royal Rumble Tournament late last month.
The Auroras finished first in its pool by splitting with Vauxhall and sweeping Picture Butte and Immanuel Christian.
"That was nice because we had a match the night before against Picture Butte which we lost. It was great to see the girls come back out and get re-focused, where we were able to beat them two straight sets," said Cassie Mucciarone, head coach of the St. Mary's Auroras varsity girls volleyball team.
The first-place finish in pool play made for a quarter-final matchup with CASH from Lacombe before moving on in victory to F.P. Walshe in the semifinals, where the Auroras proved victorious once more.
"That was nice because we hadn't played them yet this year and they are in our zone, beating them two straight," said Mucciarone.
The Auroras battled Senator Gershaw in the final who had upset Vauxhall earlier in the semifinal in a three-set marathon.
"We played amazing and won that in two straight sets. We had decided as a team before the tournament that we were going to try some different things that weekend that we hadn't tried all year," said Mucciarone.
"We made some switches in terms of positioning and roles players had on the team. It had worked beautifully considering we had never practised it before. That made all the difference, it was just a few switches and the girls were hungry for some wins and they were very focused and determined."
The Auroras had this past weekend off and the Grade 10 and 11 Auroras now prepare for the Southern Alberta High School Junior Varsity Post-Season Tournament at W.R. Myers this weekend, with the varsity tournament the following weekend.