Rebels hoping for banner moment
Posted on November 2, 2016 by Taber Times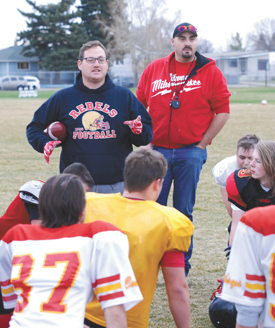 PEP TALK: W.R. Myers Rebels football team's coaches Adam Hughes and Jason Jensen outline goals after an intense practice last Thursday at W.R. Myers field. TIMES PHOTO BY GREG PRICE
By Greg Price
Taber Times
gprice@tabertimes.com
Just how the history books will be written for W.R. Myers Rebels football will be determined this Friday, as the team battles Willow Creek Cobras for zone bragging rights at Ken McDonald Memorial Sports Park.
W.R. Myers is ranked first provincially among Tier IV with Willow Creek ranked fifth in the powerhouse tilt.
The Rebels have been preparing for the zone championship for two weeks, thanks to earning the bye with its undefeated record in league play, and given the intensity the team showed last week in practice, the squad has not taken its foot off the gas pedal.
"Bye weeks can be deflating, or they can also be refreshing and invigorating," said Adam Hughes, head coach of the W.R. Myers Rebels football team. "I think we had a nice refreshing bye week. With our first game against Willow Creek, we were very happy with how our game went. It paved the way for winning the division championship."
The Rebels had three goals to start the season. Win the league Division 'B' championship, qualify for provincials, and win the zone championship.
Having already accomplished two-thirds of the team's pre-season goals, one hurdle is left to be jumped over successfully in Friday's game.
"We have a lot of respect for Willow Creek. As coaches we are trying to do our best to prepare for all the different things they can throw at us," said Hughes. "When they played us versus what they did against Pincher Creek (27-7 victory this past weekend) were very different things. They ran a total different offence against Pincher Creek this past week. They basically ran an inverted wishbone against Pincher Creek and against us they ran spread and tried to pass. I'm very curious to see how they attack our game. I think we are by far the two best teams in our division, so it should be a good game and nice challenge."
That challenge will be walking a tight rope of making coaching adjustments as a season progresses so as not to be too one-dimensional, but at the same time, not abandon what has made a team successful to this point.
"Even though we won last time, we can't take this game lightly. Their head coach is an excellent strategist, and that's what's allowed them to be successful over the years. I'm sure they have more than a few surprises lined up for us, so we'll have to be on our toes," said Jason Jensen, defensive co-ordinator for the W.R. Myers Rebels football team. "We'll obviously have a few changes to make gameplan-wise, but we won't be trying to reinvent the wheel. I think often times, teams try to change too much, and kind of end up outcoaching themselves. As it is, we're both good teams with a lot of talent, so it's going to come down to who executes better."
W.R. Myers will be competing in Tier IV provincials regardless of the outcome of Friday's game, but there is still plenty at stake for the history of the W.R. Myers Rebels football program.
"For the kids, it's for the zone banner and zone banners are special hanging up in the gym forever. In of itself, this game is important," said Hughes. "We could just view this as 'well, we are in provincials, let's just fine tune for provincials.' But this is a game worth winning. We debated as coaches, do we play this as another game where we don't show too much for provincials, but it was a resounding 'go for it.' There isn't too many times you have a chance for a zone banner. We have to make sure the kids make the most of this opportunity."
A win also earns the Rebels the right to host its first game of Tier IV provincials.
"If we lose, that means we go on the road, probably to Drumheller. Those long trips, you are sitting in a bus for two or three hours and you run the risk of coming out flat," said Hughes. "Having home-field advantage for as long as we can is important."
W.R. Myers Rebels battle Willow Creek Cobras this Friday at Ken McDonald Memorial Sports Park at 7 p.m.